There can be challenges when introducing anything new, be it a curriculum change, a new approach to CPD or the latest development in technology. One thing schools can do to make adoption easier is ensure they have the right type of culture in place, the kind where improvements in teaching and learning can thrive.
When introducing video, teachers may have different concerns. Some may be worried about additional workload, others may hate the idea of seeing themselves on camera or perhaps dislike the notion of being 'watched' for fear the technology will be used as a tool for performance management.
It's vital to ensure that recognition and understanding form part of the implementation process alongside addressing any concerns. Clear communication of the benefits, feedback and follow up activities is also key.
---
Advice to get you raring to go with video
1. Incorporate into existing school structure
Video won't work if it's treated as an external 'bolt-on'; teachers already have more than enough to do. Video needs to be embedded into the school culture and existing CPD plan, allocated time and calendared.
Teaching quality is the single most important controllable factor affecting educational outcomes. School leaders need to prioritise professional development; this is part 5 of the government standard for teachers' professional development.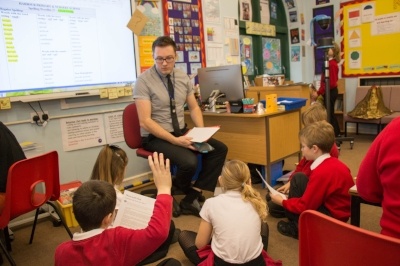 2. Make sure you have time
It will take time before video is fully embedded into your way of working and the school's as a whole.
Although video is a powerful tool for noticing small improvements that can be made straight away. it must be understood by everyone that video isn't a way to quickly transform your school.
A structured approach to implementing video is needed, along with the time to make sure teachers feel fully supported. Introducing video is unlikely to work well if teachers are presented with the technology and immediately asked to go away and film themselves.
3. Start in a neutral place
Begin by organising a collaborative CPD session to review and discuss the teaching and learning in a lesson recording.
You may want to use a lesson clip from a neutral setting in the first instance. If some staff aren't sure about recording themselves, this can be a risk-free way to get everyone used to the idea of video and start honing their analytical skills.
4. Identify a 'pathfinder' group of teachers

There are likely to be some teachers that are more sceptical than others; perhaps trial the technology with a small group and focus on a specific professional learning objective. These teachers can then feedback successes to the rest of the staff to reassure their peers.
Natasha Ashwin, Deputy Headteacher at Wood Farm Primary School calls this the 'cascade approach':
"With our cascade approach to introducing video CPD to new staff, the first time someone tries it, they are shown by someone who used it the previous day. This gives the school the natural development of embedding the system and building teachers' confidence."
Read Natasha's 4 tips for adopting video professional development >
5. Establish professional learning communities
Organising staff into different professional learning communities, such as triads, departments, year groups or film club groups can be a good way of getting those that have shared educational goals together. This can help to keep discussion focused and relevant to each individual teacher's professional development goals.
6. Set norms for professional discussion around video
Setting some norms around discussing videos and agreeing on a few ground rules is key to establishing a positive professional learning culture.
It is essential for feedback and discussion to be constructive, non-judgmental and professional at all times. This will help to build a culture of trust and eliminate any fear of judgement so that practitioners can develop confidence to record, share and discuss videos of their own teaching in the future. An example of a key norm might be to focus on the learning rather than the teacher.
7. Build in support mechanisms
When introducing video for the first time, it's beneficial for schools to have an effective change management process in place to get everyone on board, prepare for questions from teachers and so that school leaders know how to manage and address any worries.
But schools also need an ongoing support system in place. This involves technical help from your IT technician or video technology provider, as well as strategic direction from your SLT (and ideally your technology provider, if they have educational consultants).
---
Do you have any tips for getting started with video CPD? We'd love to hear from you in the comments section.