Video conferencing is exciting technology that is significantly helping to address the challenges of social isolation and reduced collaboration faced by teachers and students.
Sadly, the conferencing tools being offered by the big multinationals have been borrowed from the corporate sector meaning that uptake across the education sector has been stressful and patchy. You've probably found they either lack education specific tools or have question marks over their security and compliance in an education context. You are not alone.
With a decade of experience in working with schools on video collaboration, and a track record of securely managing over 200,000 hours of classroom footage, we knew we had a role to play in delivering what schools needed. We believe schools deserve live video tools built specifically for learning.
With that in mind, we're proud to announce the launch of IRIS Connect Rooms: a fully featured video tool that goes beyond simple conferencing, to address hybrid and blended learning challenges faced by you, and every school, today.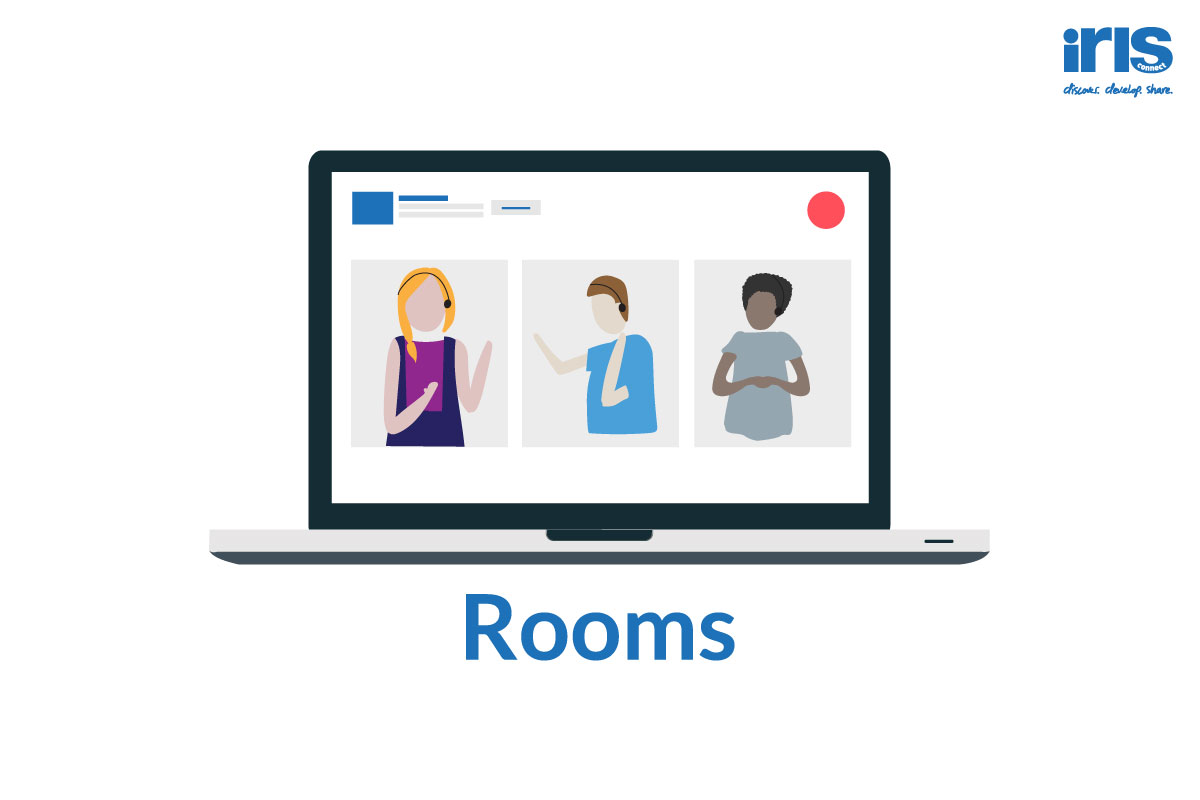 Education specific functionality
In addition to all of the standard tools that you would expect to see within a conferencing environment, you'll get incorporated break-out rooms, presentation sharing and annotation tools. The experience is entirely delivered in your web browser, meaning no plugins to install. Just click on the link and you're ready to go on any device.
To address the issues faced by schools, we needed to do better than offer a simple video sharing environment. With learning taking place in different locations, schools face the ongoing prospect of shifting their primary mode of delivery at short notice. Consequently IRIS Connect Rooms supports learning wherever it's happening and makes it accessible whenever it's needed. Share your live learning environment with absent students and overcome the feeling of isolation in one secure space. This is more than just video conferencing!
Seamless integration with IRIS Connect
Not only can you share a live learning environment with remote parties but you can also save a recording straight to your IRIS Connect Reflections Library to be accessed at a later date.
Recordings can be shared with either teacher or student groups. Video is delivered via an interactive interface allowing key moments to be highlighted, conversations developed and questions answered.
For a more holistic learning experience, you can share videos alongside other learning materials, like documents, discussions boards and tasks.
Extremely high security standards
With a subscription to IRIS Connect Rooms your school will also benefit from its own dedicated conferencing server, managed and run via GDPR compliant processing arrangements. This clear audit trail and our world-leading experience in education security will help your school gain vital buy-in from teachers, students and parents.
Standard package available to all customers
Teacher support is now more important than ever so we've made IRIS Connect Rooms available to all customers as part of your existing service plan. You'll be able to have team meetings, support each other, plan together and engage in coaching and mentoring for free in IRIS Connect Rooms. Login to your account now and click 'Rooms' to give it a try.
Up to 25 teachers with IRIS Connect accounts can be in the same Room. To enable larger groups of teachers or students to use the system, your school will need to upgrade to a dedicated server. This process is quick, cost effective and delivers a learning experience which exceeds what is available on other systems. To request more information about our upgraded services please contact us.
The way we meet and collaborate in schools is changing dramatically. Allow IRIS Connect Rooms to increase your flexibility in school and reduce isolation faced by teachers and students, alike.
Do you have further questions about IRIS Connect Rooms?
Find out more