By Angela Easton Assistant Principal T&L, The Hathershaw College, Oldham
How can we be focusing on improving teaching and learning in a time when workload and wellbeing are such a major concern? At The Hathershaw College, we know that focusing on teaching and learning is essential to improving outcomes, so we use video CPD in a variety of ways to support teachers and ensure they are able to find work/life balance.
My blog takes you through our journey of how we use IRIS Connect to enhance lesson observations and self-reflection; creating a safe and developmental CPD culture within the college.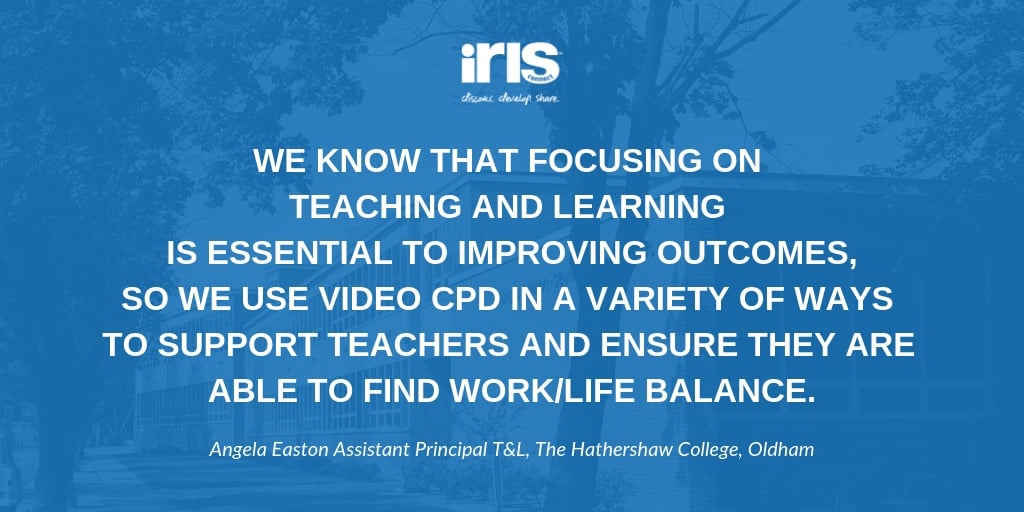 Supporting colleagues with workload and wellbeing
Our teaching staff began their IRIS Connect journey feeling quite self-conscious, focusing on how they looked, sounded and even stood. But in no time at all they had looked past these superficial things and have been using it in triad groups, sharing practice and measuring the impact of teaching and learning in their classrooms.
The staff at IRIS Connect have been with us every step of the way, supporting us with their technical expertise and pedagogical advice on how we can use the system to continue to improve teaching and learning. Video CPD is now an integral part of our programme for monitoring practice and improving the quality of teaching at The Hathershaw College.
We use video CPD to:
Replace the need for time consuming scheduling of real-time lesson observations
Encourage pedagogical discussion around teaching and learning through triad and paired recordings
Focus on self-reflection to support development and provide evidence of classroom practice
Enable better support of our NQTs and RQTs
Enhance our ability to coach and mentor staff
The system also provides us with a secure and permanent library of essential inputs from key personnel that often need sharing throughout the year, such as:
Induction sessions for new staff
Clips of training that's taken place throughout the year
Important assemblies, presentations and key meetings
Let the journey commence
In October 2017 the SLT carried out a pilot project that involved us creating secure recordings of ourselves teaching and then sharing it with each other. It was absolutely essential for teachers to see us leading by example. The buy-in from SLT really helped staff to understand how simple the equipment is to use and how secure each teachers' own library was.
I then set up our first IRIS Connect focus group, made up of staff of all levels, teaching and non-teaching, with a champion from each of our faculties. I delivered training to the focus group who would then deliver the same training to the staff in their faculty. This has proven to be most effective and something I always advise when thinking about implementing IRIS Connect and how best to embed the use of it into daily practice.
The focus group has been instrumental in getting IRIS Connect exposure throughout the whole school and normalising the use of it. Securely recording assemblies, training sessions, meetings, School Council events and parents' events all served to make the presence of the kit part of the school furniture.
Observing lessons and sharing good practice
One year into our use of video CPD, and once we had whole staff buy-in, we were able to develop our own lesson observation programme. We grouped all of the teaching staff into triads with the expectation being that teaching staff share a 30-minute recording with their triad using a private group page set up in the IRIS Connect platform.
Our triads were grouped strategically to meet the CPD needs of staff; science & maths colleagues were grouped to reflect the increasing amount of maths in the science Curriculum, NQTs and RQTs were grouped with their mentors, AST's (Advanced Skills Teachers) were grouped with staff on support programmes.
As the teaching and learning lead, I was a member of each triad to quality assure the peer-to-peer feedback, time-stamped comments and professional dialogue being created within each group. The staff responded very positively to this work and made astute observations and suggestions for refining the process. It was a success!
Measuring the impact of subject-specific CPD
As we embark on the 2019-2020 academic year we have developed our triad work to further improve teaching and learning outcomes in our classrooms. Teachers will work in subject-based triads, creating reflections, building a series of clips and sharing within their subject-based group; showcasing the strategies they have learned and allowing SLT to monitor the impact it has had on each subject teacher.
A further development will be for Groups on the IRIS Connect platform to be created, aggregating CPD materials, recordings, research and comments for each INSET as part of our ongoing CPD programme.
For the autumn term we'll be focusing on:
Revision and retrieval practice
AFL and metacognitive modelling
Challenge and thinking hard
What's next for Hathershaw…
There are exciting times ahead for us at the college as we grow our use of IRIS Connect to improve teaching and learning through the Go-Live coaching tool which will be trialled during the autumn term. As we welcome a new primary partner to our MAT, IRIS Connect will be used to share good practice and expertise from Early Years to Year 13 provision across our partner schools.
Supported by the staff at IRIS Connect, we just continue to find new ways of using the system to improve teaching and learning needs.