Guest blog from Hannah Bailey, Drapers Mills Primary Academy, TKAT
In this blog I'll be sharing my experience of becoming a certified video cpd leader and the benefits of this at Drapers Mills Primary Academy.
In my opinion, if you see yourself as a learner, you will be a better teacher.
I have always been interested in reflecting on my own learning paths in order to improve professionally; IRIS Connect (a video-based professional learning platform) has helped me to spread this philosophy and build a professional development culture within our school through their IRIS Lead Certified programme.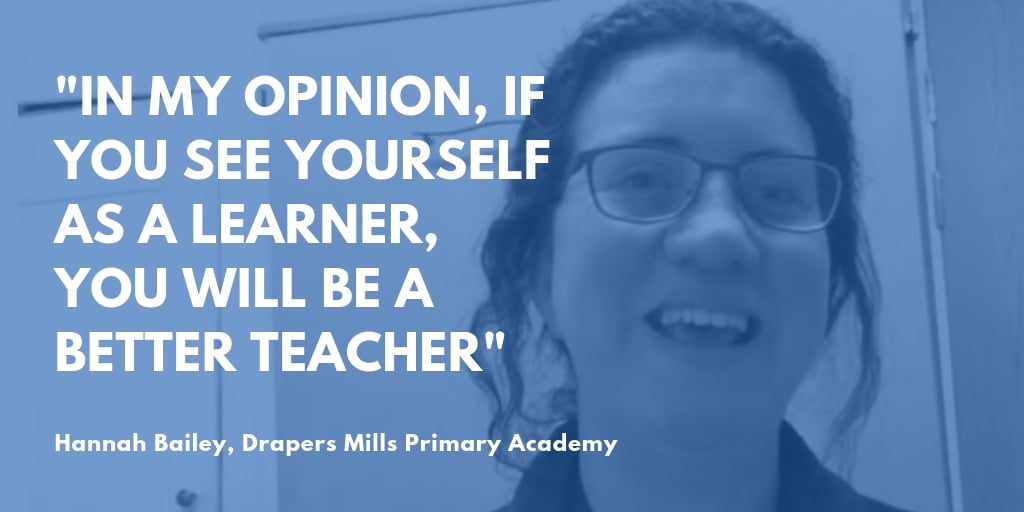 What is IRIS Lead Certified?
Dedicated education consultants at IRIS Connect guide participants through an accreditation programme to recognise and celebrate the efforts of those using video cpd across the community. I was provided with an online portfolio which I kept up to date with how and why I was using IRIS Connect in school and made evaluations and reflections along the way. You can read more about it, here.>
How IRIS Lead Certified helped me
The IRIS Lead Certified programme enabled me to focus on how reflective practice was going to be developed and sustained within Drapers Mills Primary Academy and other schools within TKAT.
The programme is broken up into sections and is designed to reflect the pace of the academic year.
The 'early stages' allowed me to explore colleagues' initial feelings towards IRIS Connect and identify a small group of teachers and TAs to be my IRIS Connect focus group for initial roll out. It was very clear that any sustained change in culture would have to be led by the teachers themselves in order to reinforce that reflective practice is something that they have ownership over. IRIS Connect provided all the tools I needed in order to make this possible.
The 'roll out' process then began. Although there were sometimes logistical challenges surrounding the whereabouts of the equipment, the teachers in the focus group were very enthusiastic and were able to identify their own areas for development. I was able to oversee the whole process with interest and offer support where needed.
Impact in school
It was obvious that the use of IRIS Connect was having a direct impact on teaching and learning as the outcomes of children in classes where teachers were using the system were improving. Interestingly, we also saw an increase in teachers using IRIS Connect across the whole school and trainee teachers and mentors were using it as a way to share and review practice. This is a direct result of implementation from the ground up.
The focus group fed back to the whole teaching staff during a professional development meeting and spoke about how useful they found the reflective practice as well as having a more holistic approach to teaching and learning.
For me, it is the culture of self-reflection that IRIS Connect fosters that has had the biggest impact, if teachers want to reflect upon and develop their practice, it can only result in improvement and, often more importantly, motivation to improve.
What the future holds
We have been able to sustain the work done beyond the IRIS Lead Certified programme as we now have a 'leader of reflective practice' within the school and this form of CPD is embedded in the school's culture. Teachers are now seeking me out to tell me that they wished that they had 'IRIS-ed' that lesson ... proof indeed that teachers are thinking more deeply about teaching and learning and their impact on the children in their class.
Why not download the free guide to enabling effective teacher reflection to learn more about how you can help your teachers to be reflective practitioners >
If you'd like to read more about self-reflection from other teachers and leaders, you might enjoy this blog by educator Ryan Holmes: Teacher reflection: why filming your practice is essential >