Why is CPD important in schools?
The latest OfSTED report and Education white paper outlines the importance of continuing professional development, and what makes it work so well in successful schools including:
Lesson observations - enabling teachers to identify their own CPD focus as well as the identification of teaching strengths that could benefit the whole school
The best resources for professional development is the expertise of in-house staff
Emphasis on peer support and learning communities
Collaborative professional development – harnessing the collective capacity of a school to support, engage and change teaching practice. Evidence from school inspections show that schools who prided themselves on being learning communities by sharing best practice within and between schools improved.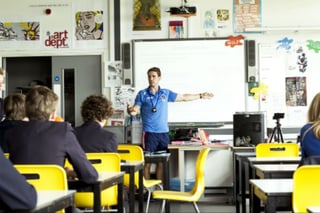 The importance of continuing professional development for teachers cannot be underestimated. Indeed, it is recognised as one of the most important factors in determining student outcomes.
A recently released White Paper acknowledged what many have long realised; that supporting teacher professional development offers the education system the greatest return on investment at this time of budgetary constraint. However, traditional professional development processes can be ineffective. Even those processes which can be shown to work, like coaching, are difficult to sustain and scale within the education system because of resource demands.
In too many schools, continuing professional development is still understood as focused on leaving the classroom to attend courses which are passive by nature and don't provided contextualised learning opportunities 'in the classroom' where it matters most.
But how do we support teachers to be the best they can?
There is a growing body of evidence which shows effective professional development has the greatest impact on teachers. It is been argued that adults do learn differently from children and that learning from experience is key to successful adult learning and that this is the key distinguishing element between pedagogy (children) and andragogy (adults). Therefore, traditional models of professional development activities such as courses, lectures and workshops fail to impact day to day teaching as they do not incorporate key experienced based components such as modelling, professional dialogue, and observation within and across professional learning communities.
By simply looking at other professions, it is clear they have signature pedagogies that harness the collective capacity of individuals within an organisation, utilising peer and self observation regularly and by sharing their knowledge and skill through networked learning communities. By welcoming these principles into education and embedding them within continuous professional development a more personalised and tailored training and development will take place, reinforcing a culture of professionalism among teachers.
Next time somebody poses the question 'why is CPD important', show them this post.
---