Experienced teachers advice for NQTs
Whatever it is that you might be looking for tips on, there's no one better to ask than someone who was once in the same position as you.
With this in mind, we asked teachers to think back to the early years of their career and tweet us their responses to the question:
'What advice would you give to NQTs?'
Jane Basnett's blog post 'Be prepared: A veteran's advice for NQTs' includes practical suggestions for newly qualified teachers - have a read here. (@basnettj)
@MissKMcD tweeted us her top tip: "Keep a Success Diary to focus on the positives. These are priceless to me."
David Fawcett directed us towards this blog written by a colleague of his, in which you can find 10 helpful tips for how to survive your NQT year. David also has a blog of his own, in which he has suggested ways that NQT mentors can help to make things a little easier of their NQTs – you can find these here. (@davidfawcett27)
@NuttySalt responded: "Create a positive board somewhere (I used the inside of my wardrobe) and keep a record of the positives; help keep motivation.'
More tips?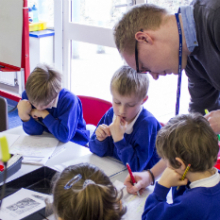 You can also find a wealth of ideas on the web that can help make the first year of teaching better for NQTs everywhere.
From marking tips to pedagogy practice, The Guardian asked a similar question to teachers across the country and their helpful responses can be found here.
Taking a different approach in an article for SecEd, Emma Lee-Potter collated some useful tips from NQT mentors who have some great advice to share through their experience of working with newly qualified teachers.
Whilst Get Into Teaching asked three NQTs to look back on their emotions at crucial moments during their first teaching year and reflect on what their top tips for others would be. Their advice can be found in this YouTube video.
You can also read of some of our suggestions in From Surviving to Thriving: Advice for NQTs
What would be your advice for NQTs? Is there anything you wish someone had told you when you were in your early years of teaching?
Comment below or tell us on Twitter @IRIS_Connect