Takeaways from Tom Sherrington at #TLT14
A year and a half a go, Tom Sherrington (@headguruteacher) asked the twitter community:
"If there was no Ofsted, no league tables, no SLT…just you and your class…what would you choose to do to make it GREAT? Do that anyway…"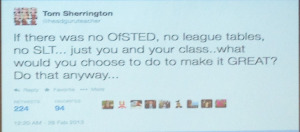 In his opening talk at #TLT14 (Teaching and Learning Takeover, Southampton) today, Tom discussed this tweet, the reaction it evoked and how he is rising to the challenge in his own school.
Tom's core argument today was that if you don't have great culture and systems within schools, all the fussing about details is futile.
5 takeaways from Tom's talk:
1. Identify the outcomes you want to achieve in your school, keep it simple and stay focused
2. Focus on getting the basics right rather than being pedantic about details
3. Create an environment in which everyone is talking about the profession and getting excited about teaching and learning (every school should feel like #TLT14!)
4. Establish a culture for great teachers to thrive by giving purpose, challenge, autonomy, opportunities for growth, recognition and care
5. Ask other teachers for their advice, if you're a senior leader you can still learn a lot from others. From NQTs to Heads of Department everyone has insights and expertise to share
Ultimately, the Tom's opening of the #TLT14 conference challenged teachers and school leaders to forget what you think you need to do to impress Ofsted and do what you believe to be right for your school.
If there is a group of education professionals that will take this challenge with both hands, it's the teachers and school leaders at #TLT14 today. They've given up a Saturday to collaborate, share and discuss great teaching and learning; and the excitement and buzz on twitter about the learning taking place is testament to their dedication to do what they believe will improve outcomes in their schools.
A great event, one we were pleased to be able to sponsor and attend.
Were you at #TLT14? Let us know your highlights in the comments below.

If you didn't get a chance to speak to us there...