The most important school-related factor influencing student achievement is teacher quality (Coe, 2014). Being well aware of this, most schools make sustained efforts to provide effective professional development opportunities for their teachers. However, research shows that while continuous professional development (CPD) of teachers can be effective, it's often not.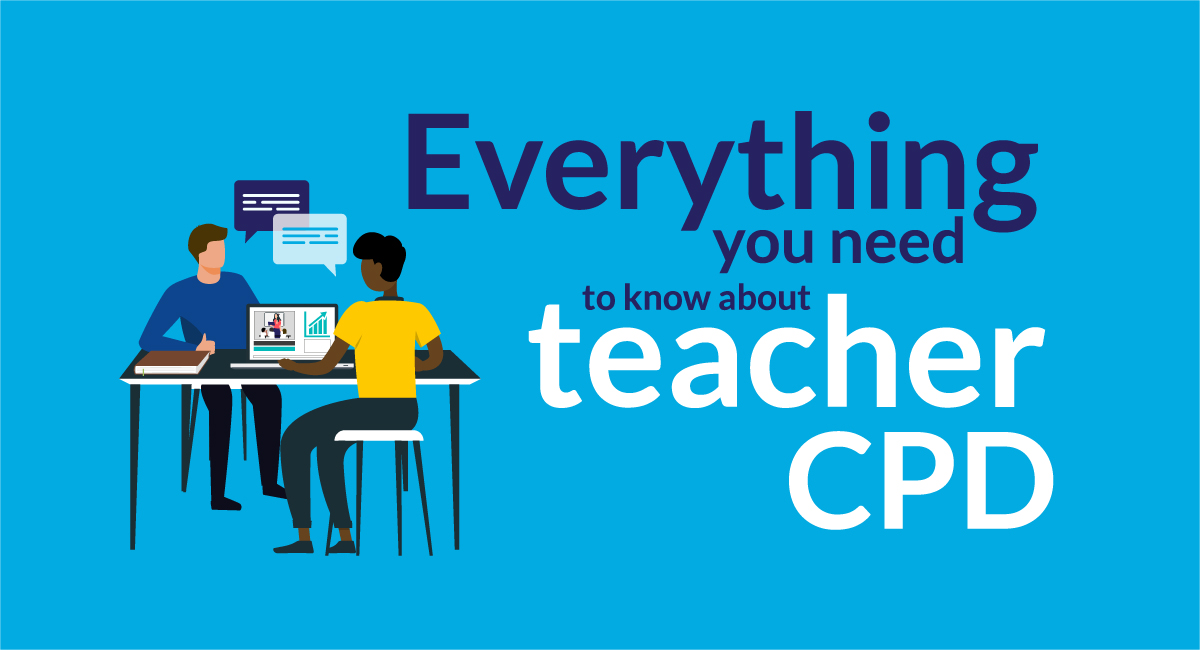 In a comprehensive report released by the Education Endowment Foundation (EEF) in 2021, 14 mechanisms were identified that lead to effective CPD design, yet most professional development only covers a few of these.
A third of teachers in England typically take part in CPD at least once a week but only 38% of teachers surveyed in October 2018 agreed that 'time and resources allocated to professional development are used in ways that enhance teachers' instructional capabilities'. Moreover, substantially fewer classroom teachers (29%) agreed with this statement compared to headteachers (73%). (Teachertapp, 2018)
The good news is that teachers themselves are firmly invested in honing and developing their skill sets. According to an LKMco and Pearson survey, the prospect of making a difference in pupils' lives motivates 92% of teachers to stay in teaching, so any further opportunities to increase their impact in the classroom are likely to be received with enthusiasm.
Whether you're new in your role as CPD lead or would like to further expand your knowledge to provide better learning opportunities for your staff, below you will find answers to the most common questions around continuing professional development, learn what the research says makes teacher professional learning and development effective, and find suggestions for putting those into practice.


1. Getting started with CPD
Supporting high-quality teaching is pivotal in improving pupil outcomes and can narrow the disadvantage gap (EEF, 2021). High-quality teaching, however, is something which cannot be achieved overnight. It requires a continuous process of development over the course of a teacher's career.
CPD
When we think of teachers' continuing professional development (CPD), it's often one-off training courses that first spring to mind. These training courses are mostly about providing a theory snapshot of something specific but if they're not subject or context specific, can sometimes feel quite generic and offer little guidance on implementing the new information in the classroom.
Professional Learning and Development
Development, on the other hand, is informal and has a wider application. It's about developing a teacher's ability to transfer and adapt what they've learned in training to their classroom practice. It's an iterative process of collaborative reflection, enabling teachers to progress from basic know-how to a more advanced understanding and being able to adapt their newly learned skills, knowledge or teaching strategies in a way that best meets the needs of their pupils.
Both training and development have key roles to play in effective CPD. Let's take a look at an example:
"Susie has been teaching for five years. She's heard about a new teaching strategy that she wants to learn more about, so she applies to go on a day course. During the course, she learns all about the strategy and the theories behind it. At this point, Susie has taken part in the training. It's not until she is back in her classroom applying the strategy with her own children, analysing the results, tweaking her technique, improving her practice and sharing with others that she's taking part in continuing professional development."
Standalone training sessions, therefore, can be part of a CPD plan but in order to be effective, it needs to encompass much more than that. We'll look at this in more detail in the section 'The Building Blocks of Effective Professional Development'. Other popular CPD types for teachers include research, self-reflection and lesson observation, lesson study and feedback, coaching and mentoring.
When we first started working with schools, over a decade ago, we would routinely encounter schools that had experienced disappointing outcomes of their professional learning endeavours. Poor design had led to repeated failures and frustrated school leaders had resorted to pulling harder on the levers of policy and monitoring to "drive change". Teachers, in turn, had become entrenched in cynical attitudes towards "yet another initiative" and pushed back on crude monitoring. These two responses often fed upon one another, creating a toxic learning culture where no progress was possible.
It's important to acknowledge the strides made in schools since then. The last few years have seen a sea change in schools' approaches to CPD. They've largely moved away from ineffective, summative observation. There is broad recognition of CPD as a process requiring ongoing support and skill development outside of designated INSET time, and the focus of professional development initiatives is largely evidence-informed.
Schools that manage to successfully provide their teachers with effective career-long development opportunities not only help their teachers to become the best teachers they can be and increase the quality of teaching, but ultimately improve pupils' learning success and therefore their chances for a promising career.
In the beginning of a teacher's career, CPD is especially important. With little previous teaching experience, trainee teachers are faced with many practical challenges, like learning how to run a classroom or structure a lesson, as well as overcoming mental hurdles like imposter syndrome and building up their confidence.
The new Core Content Framework as well as the recently launched Early Career Framework acknowledge the need for better trainee support and move mentoring into the spotlight. With detailed training curriculums and appointed lead mentors, trainee teachers are given additional support and quality assurance. Part of this support involves observing, deconstructing and critiquing examples of teaching. The use of video recording technology like IRIS Connect proves to be a powerful tool for this. Allowing trainees, early career teachers and their mentors to analyse video lessons in their own time, eradicating the barriers of time and distance and providing contextualised, more granular feedback, helps these teachers to accelerate their learning.
As a trainee teacher from a school in our community, Hampshire SCITT, put it: "Without IRIS Connect, I do not think I would be able to effectively develop into the teacher I am continuously progressing to be."
A lead subject tutor of the same SCITT confirms "Equipping our trainees with the video technology that enables them to watch and evaluate their own performance has been really valuable. As a lead subject tutor, being able to access video footage has definitely enhanced the quality of feedback we've been able to give".
If you're interested in finding out more about the use of video to support trainees to achieve Qualified Teacher Status, click here.
Teachers learn naturally over the course of a career. However, learning from experience alone will ultimately limit development. Continuing professional development enables them to become the best teachers they can be and allows their pupils to achieve better learning outcomes.
It ensures teachers keep pace with the current standards of others working in education.
It keeps their knowledge and skills current so they can deliver high-quality teaching and impact positively on pupil outcomes.
It makes sure that they become more effective in the workplace. This helps them to advance in their career and move into new positions where they can lead, manage, influence, coach and mentor others.
It opens them up to new possibilities, new knowledge and new skills.
It leads to increased confidence in themselves, others and the profession as a whole.
CPD for teachers is also very useful at:
Reminding them of their achievements and how far they've progressed.
Directing their careers and helping them keep an eye on their goals.
Uncovering gaps in their skills and capabilities.
Opening up further development needs.
Use IRIS Connect to support your current CPD activities and elevate your teaching & learning quality:
Request a demo
In their guest blog for IRIS Connect, Zoe & Mark Enser, co-authors of 'The CPD Curriculum: Creating conditions for growth' suggest three steps for school leaders to take in order to create a plan that utilises CPD to best effect:
"Firstly, you need to cast a really careful eye over what the issues actually are in your school, department or classroom.
What are the barriers to learning that your pupils experience?
What is it you want them to be able to do?
And how will this impact the outcomes you want to achieve, in all its forms?
What is the starting point, what is it that people already know, how can we build on that and, most importantly, what will the change look like once it has been implemented, especially in relation to what pupils know and can do at the end of it all?
Secondly, looking at these, on a granular level, is an important part of the design process. Whilst we may love the idea of overnight change, effective change is a slow process, and deciding on the steps and stages is essential if we want to make a difference. CPD should be iterative and therefore we need to understand how this will be developed over time. Just as with pupils, we need to build on prior knowledge and manage their cognitive load if we want to ensure CPD will have the desired impact.
This is especially difficult with staff as you have such a wide range of experiences, prior knowledge, ideas and values which each individual brings to the table. There needs to be real clarity about what you want to achieve, why it matters, and selecting elements that are demonstrable and tangible. While we need teachers to be able to understand the theory of why we want to do particular things, we also need them to be able to see these abstract ideas in a concrete way and give them opportunities to explore what it may look like in their context.
Thirdly, we need to build in regular feedback loops to the conversation, where we can check progress towards our goal, consider deviation and what our next steps might be. This forms part of our assessment of the 'impact' of our CPD curriculum. If we have carefully considered the steps needed as part of our planning towards our final goal, then the rhythm should be part of the fabric of the school year. The more granular our approach, the easier it is to isolate the steps taken and know what the next ones may be, and the more bespoke CPD will feel."
To read the full article, click here: '
Why A CPD Curriculum Matters & How To Build One
'
"Being a teacher means wanting, more than anything, to make a difference in the learning lives of students. It means being willing to make, everyday, huge amounts of emotional as well as intellectual investment in the service of those who don't necessarily want to learn, to learn what you are teaching or to learn from you." - Christopher Day
Most teachers choose their profession for a reason, even if sometimes that initial motivation might fade a bit to the background as the years progress. Appealing to that core motivation when it comes to CPD, promoting it as a tool to help them be the best teacher they can be, can go a long way towards reaching your schools' CPD goals.
Research has shown that mid-career teachers participate in marginally less CPD than early career teachers and report significantly greater barriers to engaging in CPD, which is in line with the competing demands of their work and personal lives.
One of the biggest barriers, however, is the lack of relevant CPD opportunities. Mid-career teachers are likely to feel confident with the basics of classroom management and teaching practice and may thus require more specialised CPD opportunities that allow them to further develop their expertise. They tend to judge the CPD that they engage in to be less effective than colleagues in earlier stages of their careers. (2018, OECD TALIS)
If you're struggling to motivate your teachers to participate in professional development opportunities, ensure you've got the basics covered. Is the information presented relevant for your teachers' career stages and credible (research-based and from experts)? If it's not, begin with determining why that's the case and change it. If it is, ask yourself if your teachers are aware of that and know the potential impact it can have. You may also find that your teachers disagree with the presented information, in which case this should be a topic of debate and conversation.
Having this type of conversation leads to a second important point in motivating teachers to participate in professional development - your school culture. Is there an open dialogue between staff about teaching and learning? Do you give your teachers enough autonomy or does your school mostly have a top-down approach?
Involving your teachers early on in your school's goal setting for CPD initiatives, as outlined in the CPD curriculum section above, will give them a greater sense of ownership. Ensuring they have time to work on their development, allowing them to team up so they can motivate and learn from each other, recognising their achievements and celebrating excellence are further ways that will help to get your teachers engaged in professional development.
2. Teacher-led CPD
Teachers cannot be developed (passively). They develop (actively). It is vital, therefore, that they are centrally involved in decisions concerning the direction and processes of their own learning. (Day, 2017)
According to research undertaken by NFER & the Teacher Development Trust in 2020, teachers' autonomy and their perceived influence over their professional development goal setting is the area most associated with higher job satisfaction and a greater intention to stay in teaching.
Each teacher has different levels of experience, different priorities they want to focus on and different ways they like to learn. It can't be presumed that one style of professional learning will fit all.
Philippa Cordingley (Chief Executive of CUREE) has in the past spoken about how it would be helpful for SLT to view staff like they would a class, suggesting that CPD Leads need to plan and structure CPD training for teachers in the same way they would a lesson.
The difference is that Philippa is not concerned with viewing staff like a class in order for the CPD Lead to feel confident in delivering a training session. Instead, her message is that CPD Leads need to consider what it is that every individual member of staff needs, just as a teacher uses differentiation in the classroom. In the best classrooms, we see children as active contributors to the learning process and the same should be true of professional learning.
Professional development activities should:
Be designed around individual teachers' existing experience, knowledge and needs
Be relevant to the context and day-to-day experiences of teachers and their schools
A few years ago we asked 1,000 teachers what professional development activities they would prioritise if they were in control of their own CPD. They gave us some interesting insight.
Teachers really valued collaborative and personalised classroom-based CPD. In fact, they find these professional development activities even more useful than being sent off site to courses or receiving one-off INSET days.
The image below shows those teachers' CPD preferences.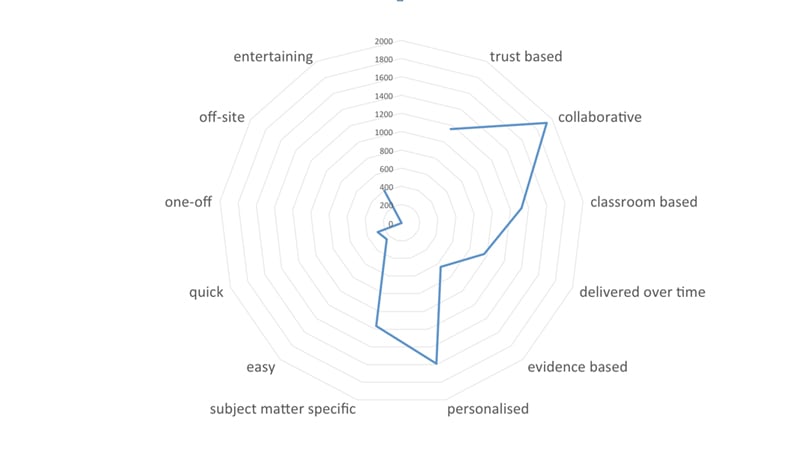 "I would prioritise a system that staff trusted to be fair, supportive and provide real and constructive feedback to help improve teaching practice."
Teachers also expressed a lot of interest in experimenting with different teaching practices. However, less than half of those who said that they highly value the ability to experiment with their professional learning claimed they are actually given the opportunity to.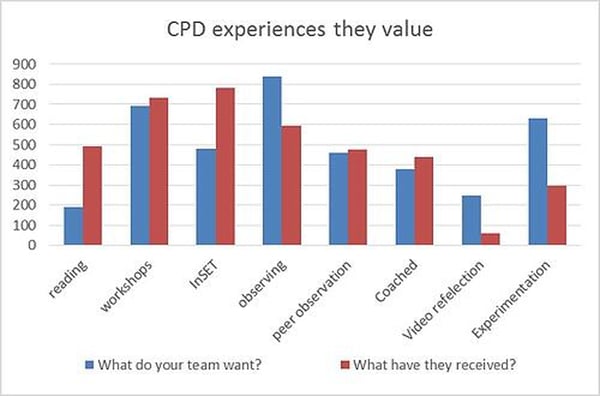 "The whole reason for CPD is to develop the staff who will then bring new and fresh ideas to their teaching to be then able to get the outstanding lessons that people want.
I would prioritise more in-house training to provide ideas about different teaching styles and activities."
Over 80% of the teachers surveyed said they value classroom observing as a professional development experience. This includes being observed by a peer, a coach or a mentor, as well as observing the teaching of others.
"I would prioritise the opportunity to observe and learn from each other."
A number of teachers said that if it was up to them, they would prioritise watching other teachers teach in classroom observations, and would value the chance to observe teachers with particular expertise in different areas.
It was also suggested that video could be used to share this expertise and make it easier for teachers to observe each other by relieving the costs of lesson cover and the struggles of timetabling issues. However, only a quarter of teachers who said that they highly value video reflection claimed they have been able to use it for their continuous professional development.
Find out how to provide the CPD teachers want through IRIS Connect:
Click here
What does good teacher CPD look like?
In 2021 the Education Endowment Foundation (EEF) published comprehensive guidance on what makes professional development effective, based on a meta-analysis of over 104 educational research papers. The report highlights the importance of focusing on key mechanisms that look beyond programmes' surface features just like a wise astronaut would be more interested in a rocket's engines and computers than its appearance. (Read our full article here)
To get your professional development endeavour to lift off, you need to look beyond the headlines of "lesson study" or "instructional coaching" and attend to how these programmes expose teachers to effective learning experiences in order to successfully improve the quality of teaching and its impact on pupils.
These mechanisms are 'empirically-evidenced general principles about how people learn and change their practice.' Split into four different groups, 14 mechanisms were identified:


A) Building Knowledge
Managing cognitive load
Revisiting prior learning
Building Knowledge Top Tips:
Discussing new ideas abstractly can be cognitively taxing. Video models and examples of new concepts can bring new ideas to life. Better yet, video models from "real world" implementation in the classroom, adapted to accommodate different contexts, can be even more powerful than "exemplars" that assume that new ideas can only be implemented one way.

Providing opportunities for a professional dialogue around these videos would help address misunderstandings or misapplying knowledge (i.e., fatal mutations). Using IRIS Connect's Practice Exchange and the tools for easy and secure recording, sharing, analysis and feedback can help address this issue in an efficient and effective way.

Our assessment tool in IRIS Connect Groups can be a convenient tool for quizzing teachers on previously presented information and providing tasks that require them to draw on their past learning experiences.




B) Motivating Teachers
Setting and agreeing on goals
Presenting information from a credible source
Providing affirmation and reinforcement after progress
Motivating Teachers Top Tips:
Get your teachers involved in identifying and setting their own development goals. These goals should be S.M.A.R.T. (Specific, Measurable, Achievable, Relevant, and Time-bound).
Provide teachers with a space to record their goals and measure their progress visually, like a trajectory to improve motivation and provide affirmation. The format is not that important, what matters is that it's meaningful for them. If you're using IRIS Connect, your teacher may want to use the Groups feature to document and share clear actions/goals and track progress.
Superficial rewards and recognitions are necessary, but by also having teachers authentically share their knowledge, learnings, and expertise, not only are they being celebrated, they're also sharing valuable information with others who can benefit. How about creating a library of good practice where teachers can share their knowledge?


C) Developing Teaching Technique
Instructing teachers on how to perform a technique
Arranging social support
Modelling the technique
Monitoring and providing feedback
Rehearsing the technique
Developing Teaching Technique Top Tips:
SLT/Mentors/Coaches can model great teaching practice with video and use time-linked annotations to explain to the observer the preparation that came before the video, the context of the class, lesson changes that were made in real-time in response to specific conditions, and the thoughts of the teacher in the video as the lesson was unfolding.
Let your teachers attend a Practice Exchange Film Club webinar in your school where they can discuss some bitesize theory, watch video examples of real teaching practice, reflect on them and discuss their findings with other teachers. Then teachers can try the modelled teaching technique in their own classrooms, record themselves, reflect on its impact and discuss their progress with their Practice Exchange Film Club peers.
Ask teachers to record their practice on video and share with a coach or mentor who could then regularly give contextualised feedback, clarify any misunderstandings and guide them towards their goal.


D) Embedding Practice
Providing prompts and cues
Prompting action planning
Encouraging monitoring
Prompting context-specific repetition
Embedding Practice Top Tips:
Encouraging the teacher to rehearse and practise a new technique in an iterative cycle of reflection and feedback is an effective way of bridging the gap between knowing and doing.
Provide teachers with prompts, cues, and reminders to keep them consistently executing their action plan. Create consistent check-ins with teachers based on recorded practice. Set clear guidelines and a timeline to motivate teachers to be proactive. Ensure teachers have time to act on their plan and the prompts provided.
Establish a method whereby teachers can monitor and record their own performance. For instance, teachers can record their teaching on video, reflect on it and document their overall thoughts and observations in regards to the progress they have made towards a specific goal.
Assign your teacher a coach or mentor that will help them to hold themselves accountable and continue to make progress.
Building a small group with other teachers for them to be part of is another effective, encouraging and motivating way to hold themselves accountable and push each other to excellence.
Interested to find out more about how IRIS Connect can support you in providing effective CPD for your staff?
Book a demo
with your regional education consultant who will be more than happy to help.
With consistently high demands on educators' time it's always been a challenge for teachers to find a way to participate in professional development, have meaningful conversations with peers and attend a colleague's lesson to learn from their experience, etc.
Whilst some schools adopted the use of technology to ease some of these issues early on, since the Covid-19 pandemic with school closures, teaching in bubbles and working from home, the need for finding digital solutions for continuing teacher development became apparent across the board.
This raised the question for many school leaders if remote and blended professional learning could possibly be as effective as traditional methods?
In summer 2020 a team based at the University of Birmingham, Department of Teacher Education, as well as the EEF alongside Durham University undertook two independent rapid evidence assessments and concluded that there is indeed little difference in effectiveness. They both highlighted in particular the benefit of video technology "as it has the potential to bring classroom interactions into a teacher education space without the expense of face-to-face observations (i.e. around release time) and the reliance on memory – which will be most fresh immediately after the teaching and increasingly distant as time passes."
Grove Road Community Primary School were quick to adapt to the challenging circumstances of the pandemic and tailored their staff development strategies to a digital world. Assistant Head Chris Harrison shared in his guest blog and webinar with our community how they've managed to bring their Twenty:20s, Learning walks, TeachMeets, Film Clubs and general CPD online, more specifically through the use of IRIS Connect. Read the full article here >
Another great initiative to provide remote, autonomous and truly continuous PD came from Middlesbrough College, who asked themselves two simple questions:
What CPD should teachers immerse themselves in that will have a direct impact on their students?
Who should be responsible for identifying what this is?
The answers seemed strikingly simple: professional teaching focused CPD should be explicitly tailored to a) the teaching practice needs of the teacher and b) the pedagogical needs of their students.
As a result, the Middlesbrough College Teaching Innovation Group's (T.I.G's) were born. Stephen Donnison, Teaching and Learning Manager, shares how their teachers explore creative ways to reflect on their practice and improve outcomes for learners through active participation in dedicated Groups they created on the IRIS Connect platform, facilitating effective peer-to-peer CPD and stimulating self-reflection. Read all about it here >
As a result, the Middlesbrough College Teaching Innovation Group's (T.I.G's) were born. Stephen Donnison, Teaching and Learning Manager, shares how their teachers explore creative ways to reflect on their practice and improve outcomes for learners through active participation in dedicated Groups they created on the IRIS Connect platform, facilitating effective peer-to-peer CPD and stimulating self-reflection. Read all about it here >
When determining the quality of a CPD initiative, the main question to ask yourself is what kind of impact it actually has on your teachers' practice. No matter how inspiring a CPD intervention may be, in the end what counts is the actual change and application in the classroom.
Thinking back to the building blocks of effective professional development as outlined above, does your CPD tick all the boxes?
Does it build teachers' knowledge by presenting them with new information (e.g. about instructional practices)?
Does it motivate teachers to act upon the new knowledge they have gained?
Does it provide teachers with the teaching techniques they require to improve practice?
Are teachers sufficiently supported to apply what they've learned in the classroom?
To assist in an auditing process, IRIS Connect has developed a set of free analysis tools to help schools better understand their current provision and measure ongoing development. Please
click here to register your interest
in undertaking an audit in your school.
To enable effective career-long learning, CPD needs to be first and foremost relevant for your teachers' career stage, experience and interest. Involving your teachers in the process as early as possible and giving them the autonomy to decide for themselves what they'd like to focus on will get their buy-in and contribute to higher job satisfaction. A well thought-through CPD curriculum ensures you're reaching your overall school improvement goals, and measuring any planned CPD intervention against the 14 mechanisms outlined by the EEF, will ensure it actually has an impact on your teachers development and contributes to better learning outcomes for your pupils.
The use of video technology like IRIS Connect proves to be a powerful tool to enable more effective professional development in your school.
"Our investment in IRIS Connect caused a tangible shift in the quality of provision we provide, particularly in the area of ECTs, experienced staff, subject leaders and pastoral leaders having more collective efficacy." - Sunny Gunessee, Carshalton Boys Sports College
Interested to find out more?
If you'd like to find out more about IRIS Connect and how our solution can help you to provide effective career-long professional development opportunities for your teachers, get in touch!
Sources:
Robert Coe, Cesare Aloisi, Steve Higgins and Lee Elliot Major, 2014 - "What makes great teaching?"
Education Endowment Foundation, 2021 - "Effective Professional Development Guidance Report"
Zoe & Mark Enser, 2021 - "The CPD Curriculum: Creating conditions for growth"
Christopher Day, 2017 - "Teachers' Worlds and Work: Understanding Complexity, Building Quality"
Lisa-Maria Muller - Chartered College of Teaching, UK, Josephine Booth, Michael Coldwell, Emily Perry - Sheffield Hallam University, UK and James Zuccollo, Education Policy Institute, UK, 2021 - "Continuous professional development and career progression in mid-career teachers"
NFER & Teacher Development Trust, 2020 - "Teacher autonomy: how does it relate to job satisfaction and retention?"
University of Birmingham, 2020 - "Teacher Education Modality Rapid Review: Modes, Affordances and Evidence on Remote and Blended Initial and Continuing Teacher Education"
EEF & Durham University, 2020 - "Rapid Evidence Assessment: Remote Professional Development"