Where does ownership of CPD lie? With the teacher? The CPD provider? SLT? Perhaps a more important question is where do you think it should lie?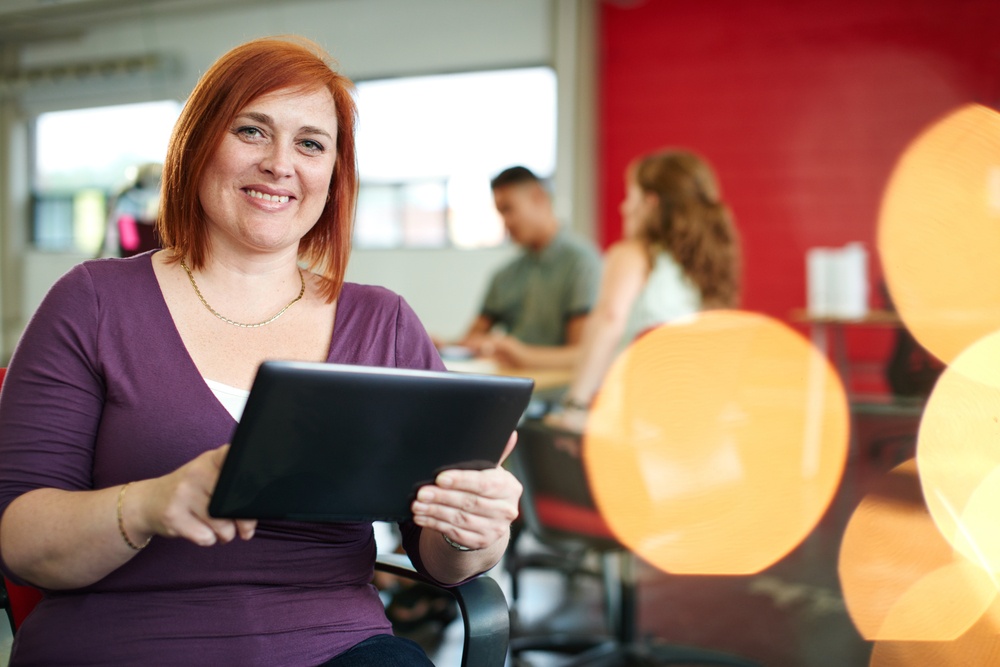 I often hear that teachers and educators don't have time for their own CPD. Or they believe that it's SLT's responsibility to guide their professional development. More often than not CPD is thought of as 'providing training to develop a skill', but effective professional development is so much more than something that is delivered to teachers.
Since the publication of research such as Inside the Black Box (Wiliam and Black, 1998), there has been general agreement that, when it comes to teaching children, the transmission model of learning does not work and that commitment must be given to teaching through interaction.
Yet, the same cannot be said for teacher CPD.

Instead of identifying professional learning as a process of acquisition based on the SLT passing on their knowledge, learning should be more commonly conceptualised as a course of action whereby teachers actively and collaboratively construct their own understanding and skills.
---
Why teachers should be responsible for their own CPD
Delivering CPD suggests a 'top down' approach, which won't be empowering to teachers. It's also the opposite of what is recommended in the recently published new government standard for teachers' professional development. The standard promotes the need for teachers and other educational staff to take control of their own professional learning.
This key issue was discussed at a recent seminar I attended, which was hosted by CUREE with the members of the Expert Panel who authored the new standard. It was clear at this event that what is different about the standard is that teachers also have a set of responsibilities - see these here.
As the article acknowledges, it's very true that telling staff that CPD needs to be done for Ofsted or for SLT won't be at all motivating. Key for gaining teacher buy in is understanding how exactly the learner experience will be improved.
The aims and objectives for professional learning should always be two things:
Linked to improved pupil outcomes

Personalised to each teacher's areas of need
The article talks about how to structure a training session, but for any training session to be effective, a school needs to cultivate the right culture for effective professional learning.
---
The culture you need for effective CPD
This type of culture needed for effective CPD is summarised nicely in the quote: "No sustainable change can be built without a culture of safety, respect and trust within schools." - Pran Patel, Lead Coach, Harefield Academy
The need for such a culture is supported by research from Kraft and Papay (2014), which David Weston pointed to at Shaping the Future of CPD conference:

"In schools where teachers are reporting much higher levels of support, much more professional development and greater levels of trust, they find that teachers not only improve more rapidly in the first couple of years, they continue to improve. On average, in those schools, teachers are helping pupils more each year than they did the previous year." - David Weston, Chair of the DfE Expert CPD Panel and Chief Executive of the Teacher Development Trust

Read more about the type of culture that fosters effective professional learning here.

---
The importance of personalised CPD
In the past, Philippa Cordingley (Chief Executive of CUREE) has spoken about how SLT need to view staff like they would a class. This is echoed in the article with the suggestion that CPD leads plan and structure training in the same way they would a lesson.
The difference is that unlike the article, Philippa is not concerned with viewing staff like a class in order for the CPD lead to feel confident in delivering a training session. Instead, her message is that CPD leads need to consider what it is that every individual member of staff needs, just as a teacher uses differentiation in the classroom. In the best classrooms, we see children as active contributors to the learning process and the same should be true of professional learning.
Philippa echoes part 1 of the standard, which highlights the importance of personalised CPD. It recommends that professional development activities should:
Be designed around individual teachers' existing experience, knowledge and needs

Be relevant to the context and day-to-day experiences of teachers and their schools
The staff in a school are like a class; each teacher has different levels of experience, different priorities they want to focus on and different ways they like to learn. It can't be presumed that one style of professional learning will fit all.
---
Why continuous professional development must be continuous
Thinking of teachers as pupils leads me to ask: would you teach a class of students in a one-off lesson with no follow-up to the learning?
The article recommends that CPD leads should reflect on how the training session they delivered went, along with how they think they could make it better. This is a great suggestion as self-reflection is a powerful way to recognise personal strengths and weaknesses and identify areas in which you can improve...
... So why should it be limited to just the CPD lead?
The article claims that in-house CPD is typically delivered during an after-school meeting slot that lasts somewhere between 45 and two hours. What about follow-up from the session for the teachers? The article fails to acknowledge the importance of ensuring that professional learning is exactly that for teachers - continuous.
The importance of follow-up is also emphasised in the new standard. Part 4 of the guidance recommends that professional development programmes must be sustained over time and should:
Be iterative, with activities creating a rhythm of ongoing support and follow-up activities

Offer opportunities for experimentation, reflection, feedback and evaluation
These recommendations are based on research findings that have proven the type of activities that work for having a transformative effect on teaching and learning.
For instance, an evaluation of 75 training opportunities showed that less than 1% were effectively transforming classroom practice (CUREE, 2011). This can be explained using research by Joyce and Showers (2002) that found: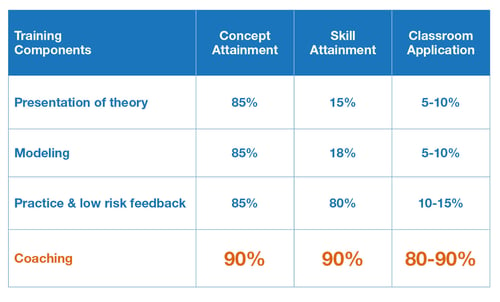 ---
How to increase the chance of improving classroom practice from 10% to 90%
Training sessions are great for sharing ideas, as the article suggests. But as a stand alone activity, they are not a successful method of improving teaching and learning in the classroom.
After learning the theory, seeing a demonstration, having a go and receiving some feedback in the training session, the chance that the technique will be applied when the teacher gets back to the classroom is only 10-15%. Elmore's Second Law sums up the issue well: 'The effect of professional development on practice and performance is inverse to the square of its distance from the classroom.' (Elmore, 2004)
The types of activity that take this percentage up to 80-90% are peer mentoring, coaching and other forms of collegial support. So, whilst a training session can be useful, it needs to form part of a wider, ongoing CPD programme which has a clear focus on improving pupil outcomes in order to have a real impact on teaching and learning.
Time can be a common barrier to providing teachers with activities such as peer mentoring and coaching. Video is a possible solution for overcoming this, so that lessons can be watched after they've taken place and feedback can be provided at a convenient time for the colleague that is reviewing the lesson. Download your free practical guide to video coaching here.
---
How to assess whether CPD is being effective



Effectiveness isn't about the performance of the trainer, but the extent to which practice and outcomes of learners has been improved.

The systematic reflection on and evaluation of the effectiveness of approaches to teaching should be everyone's responsibility - teachers, SLT and CPD providers. Teachers ought to feel in control of their own professional learning and be able to contribute to the culture of learning, openness and trust that is needed for CPD that has a real impact on outcomes.