Video is not just a powerful tool for individual, teacher self-reflection that's done behind closed doors. You can also use video to help your school achieve a collaborative, whole school approach to CPD.
This is so important for ensuring that your school moves forward together and that learning outcomes are improved for every one of your pupils.
So how exactly can video help?
---
Making time
Technology helps schools free up time by making existing processes quicker and easier to do. Video also means that schools can feasibly do some of the things they have always wanted to do but have never had time for. These activities become scalable, easier to facilitate and able to be fit around the schedules of individual teachers.
Video contributes to a whole school CPD approach by making it possible for whole organisations to get together without having to be in the same room at the same time. Instead, they can effectively get together online to watch videos of lessons and participate in forum discussions.
---
Communicating and collaborating
CPD shouldn't be an individual activity that teachers undertake locked away in their classrooms. You can use video to improve and enable communication. This will help create an open door culture.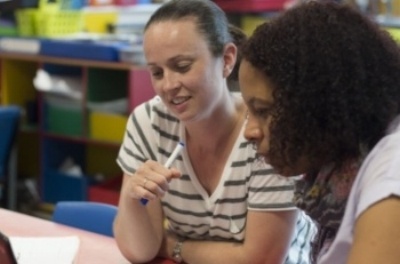 With the cultivation of a positive, open door culture, schools are likely to see an increase in peer observation, conversations and teaching and learning and teachers actively sharing and seeking feedback from peers and SLT.
Ways that video can be used to improve communication:
By recording a session to share with any absent staff and ensure they don't miss out on the value of the session
To create a collection of lessons that can be shared with everyone, so that the whole school has a chance to see them without having to visit the class
By making CPD collaborative when used for activities such as coaching, lesson observation, peer feedback and Lesson Study.
---
Building trust
Break down silos by encouraging the use of video to share practice across your school.
You may find that confident teachers are more willing to get involved at first, whilst others may be reluctant to participate. You should consider every concern and address them all before any video-based CPD activities begin.
Video should only ever be used as a developmental, supportive tool. This should be understood and agreed by the whole school community. It may be worth introducing a code of practice to affirm how lesson videos will be shared, how data will be securely managed and how video will be used to benefit teachers and ultimately pupils.
You could also download a free guide to creating a positive culture where school improvement can thrive. Get your copy >
---
Improving confidence
Once everyone is onboard and happy with your code of practice, video can be introduced as a powerful tool for recognising areas of teaching and learning that could perhaps be improved. But it is also useful for identifying the things that a teacher does particularly well.
Video can be used to show teachers their strengths and increase their confience. A study conducted in 2016 showed that 88% of teachers claimed their confidence had risen as a result of using video technology.
---
What could video-based CPD mean for you?
Whitecote Primary School has used video CPD to:
Develop a culture of openness
Support staff to analyse and discuss teaching and learning more effectively
Improve teacher collaboration and reflection
Here's what they think of the collaborative video CPD sessions they've had:
Thanks for reporting a problem. We'll attach technical data about this session to help us figure out the issue. Which of these best describes the problem?
Any other details or context?
message
---
Do you have any experience of using video for your CPD? What did you make of it? We'd love to hear from you in the comments section.