As you're probably aware, one of the biggest challenges for any network of schools, whether it's a Teaching School Alliance or Multi-Acdemy Trust, is transferring existing knowledge and new practices, not just from teacher to teacher, but from school to school.
Until now 'sharing good practice' via verbal and written presentations has been the traditional approach for knowledge transfer, but despite it's popularity, the success rates are low. In fact, coaching and mentoring have a far better success rate than simply listening to other teachers or reading reports. But, why?
David Hargreaves explains it best in 'A self-improving school system: towards maturity':
"The people who originally designed the new practice had to develop it over time, learning to adjust it in minor ways until it assumed its final shape. But this learning on the job is difficult to transmit to a listener or reader, who without help and support may find the transfer is simply too difficult and so give up. The practice was shared, certainly, but not actually transferred.
However, if the sharing also includes mentoring and coaching, then the necessary help and support are at hand, so when problems in the attempted transfer arise, they can be talked through and demonstrated with reassuring encouragement."
However, a different model of professional development has become popular, and is less about attending conferences and courses, and more about in school-based, peer-to-peer activities where development is combined with routine practice. It's called Joint Practice Development.
What is Joint Practice Development (JPD)?
JPD is more effective way of improving practice. One that moves away from one-off INSET days and training courses, towards one that is asociated with whole-school improvement, is continuous not occasional, and where everyone is an active participant, combining learning and development with practice.
Michael Fielding and colleagues defined it as '…learning new ways of working through mutual engagement that opens up and shares practices with others'.
This may seem obvious, but it is worth highlighting here, that it's an approach that needs to be prioritised and actively modelled by senior leaders. Research carried out by Professor Viviane Robinson, Margie Hohepa and Claire Lloyd made it very clear that it is leaders promoting and participating in the professional development of their teachers that makes the biggest difference to pupil outcomes, and JPD is a great way to do this.
| | |
| --- | --- |
| Sharing Good Practice (SGP) | Joint Practice Development (JPD) |
| Largely unilateral, rarely interactive | Often bilateral, always interactive |
| Seldom innovative for both parties | Always innovative for both parties |
| Supposedly runs down from success | Builds up from what is not working |
A while back, a group of Teaching School Alliances, along with the University of Sussex, undertook a number of JPD projects. These involved groups across schools looking at structured peer observations between teachers, training students to give feedback on teaching and learning, and specific activities based around themes such as transition and numeracy.
Their experience is outlined in 'Powerful Professional Learning: A school leader's guide to joint practice development' and, interestingly, all five of the alliances conclude that they will work to replace CPD with JPD.
How does JPD work?
JPD is different to traditional methods of CPD because it requires teachers to work together over time in a trusting and democratic environment to share what they do (not what they know). Building expertise and developing interventions that improve their practice and impact on pupil outcomes.
Here's what the process looks like: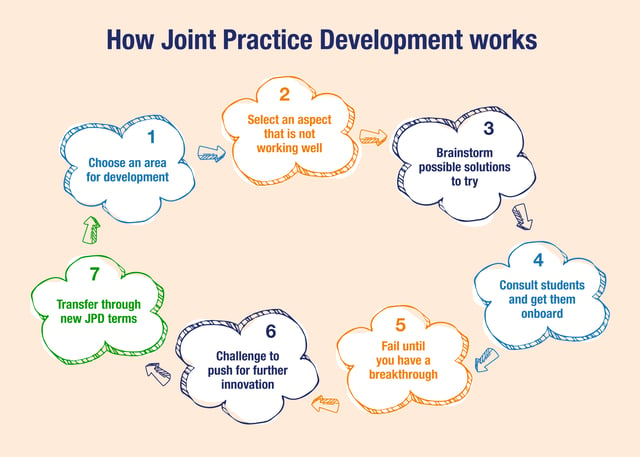 Although, this process is not something new. In-fact JPD already exists in many schools under the guise of lesson study and action research. But just because it's not new, doesn't mean that its easy to establish and embed in our schools.
Take a look at these 5 steps to embedding JPD in your MAT or TSA>