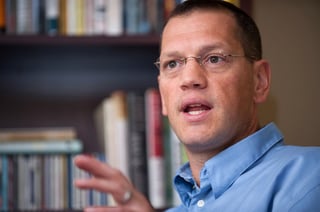 Doug Lemov believes that great teaching can be learnt.
With an attitude not unlike Carol Dweck's 'Growth Mindset', Doug's message is that great teachers are made and not born...
The simple, powerful approach that's changing the way you teach
Doug never thought of himself as an excellent teacher. But, after a colleague gave him a piece of advice to help with giving clearer directions to students, he realised that practical and precise guidance for teachers is often lacking.
His simple, structured approach to sharing best teaching practice has been referred to as 'a revolution that could change the way your child is taught'.
---
7 techniques for champion teaching
Here's a summary of 7 of the 62 techniques revealed in the latest version of Doug's best-selling book, Teach Like a Champion 2.0.
Technique 8: 'Culture of error'
Strive to normalise mistake-making amongst your students. Create an environment where it's safe to be wrong, so you can spend less time hunting for errors and focus on fixing them.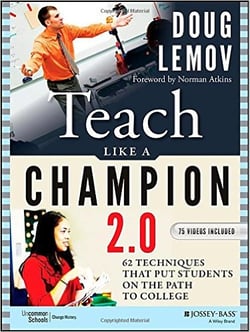 Technique 11: 'No opt out'
Use a student saying they 'don't know' as an opportunity; help those students get it right and make sure they know they are accountable for trying and giving up is not an option.
Technique 16: 'Begin with the end'
Build outwards by defining the goals of the lesson, choosing how you'll assess whether the objective has been met, then deciding on appropriate lesson activities.
Technique 39: 'Show call'
Give your students a strong incentive to complete all writing with thoughtfulness and quality; build accountability for written work by periodically showcasing and working through student work.
Technique 47: 'STAR / SLANT'
Maximise students' attention spans by using 'sticky' acronyms to teach basic behaviours for learning, such as:
Sit up

Track the speaker

Ask and answer like a scholar

Respect those around you
And:
Sit up

Listen

Ask and answer

Nod your head

Track the speaker
Technique 56: 'Strong voice'
Assert your authority with intentional verbal and nonverbal habits, particularly during moments when you need control.
Technique 62: 'Joy factor'
Celebrate and promote learning itself. Make your classroom a compelling, exciting place for your students to be.
---
There's excellence in every teacher
Teach Like a Champion 2.0, is packed with powerful teaching techniques that are concrete, focused and easy to implement.
Inspired by champion teachers Doug has observed from around the world, his book offers 62 strategies aimed at improving teaching practice and outcomes for learners.
To see all 62 tips, you can order Doug's book here.
What do you think of Doug's tips? Do you have any champion teaching techniques of your own to share? Let us know in the comments below...