How can you get feedback on your teaching approach before a lesson? Micro-teaching has proven to be a useful and practical tool for CPD.
In Visible Learning (2009), John Hattie summarises and explains the findings of his meta-study of over 50,000 studies and 80 million pupils. Number six on his list of activities that greatly influence student achievement is micro-teaching.
What is micro-teaching?
Invented in the 1960s by Dr Dwight Allen at Stanford University, micro-teaching is an organised training method where a teacher plans a short lesson, teaches it to colleagues or a reduced group of students and then reflects on their teaching afterwards. The lesson is video recorded for either individual or peer review.
In Visible Learning, Hattie describes micro-teaching as a practice that...
...typically involves student-teachers conducting mini lessons to a small group of students, and then engaging in a post-discussion about the lessons.
How does micro-teaching help?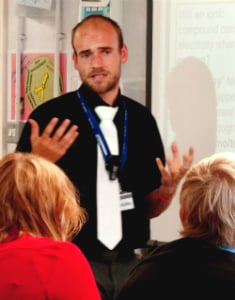 Micro-teaching offers the opportunity to present an instance of what or how you teach and to get feedback from other teachers about how your teaching is received.
It can also be used as a chance to try new teaching strategies in a safe non-judgemental laboratory environment.
The goal of micro-teaching is to give you confidence, support and feedback so you can improve your teaching methods.
Tips for successful micro-teaching
1. Choose an interesting topic
If your aim for the session is to improve your teaching approach, the content may not always be the most important thing.
That said, ensure that the topic you pick is interesting and engaging so as to maintain the attention of those you're teaching.
2. Plan
Give your session a clear introduction, middle and conclusion. Ensure that you have a clear objective which you re-visit at the end to check whether it's been met.
3. Practice
Make sure that your session flows well. Practising beforehand will help to build your confidence and relax you; ensuring that you are teaching to the best of your abilities.
4. Be inspired by others
Think back to when you have observed some successful teaching. Why did you find the lesson effective? How did the teacher engage you? Taking inspiration from others is a useful way to improve your own teaching.
What are your experiences of micro-teaching? Leave your thoughts in the comments section below.
Read more about John Hattie and his work with Visible Learning.
---