High rates of attrition among early career teachers could indicate that practice in the classroom is challenging, overall workload is excessive and that current professional development models are not meeting their needs (Guardian, 2013).
The MirandaNet Fellowship has undertaken research to investigate whether using video technology to coach teachers in a positive, reflective and learning culture can enhance teacher practice and help reduce attrition rates.
The findings of their research have been published in a new report this week.
What web-based video technology means for professional learning
The research builds upon an earlier MirandaNet study which surveyed 100 teachers who had been actively using the IRIS Connect platform for at least 4 months and found that:
99% of teachers reported an increase in conversations between teachers about teaching in their school;
96% felt they were willing to take more risks;
94% said their teaching had improved;
88% felt there had been a positive impact on collaboration;
88% said their confidence had risen;
(Preston, 2014: Preston and Belogaska, 2015)
---
The possibilities of live coaching
Live ('in-ear') coaching involves the teacher wearing an earpiece and being coached by someone who is not in the classroom (and may even be in a remote location). The coach observes the teacher via a video link and can make suggestions to the teacher in real-time.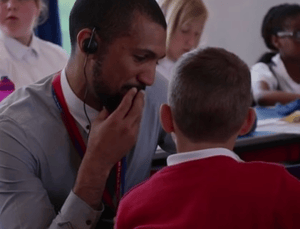 MirandaNet's research findings suggest that:
Deep learning, which is replicable and sustainable over time, can be achieved through providing immediate and contextualized feedback that the teacher can instantly put into practice;
Using IRIS Connect promotes reflective practice and sharing across and between schools, ensuring that the deep learning provided by in-ear coaching is replicable and sustainable over time;
Pupils are cooperative and the experience can also prompt pupils to be more reflective about their own learning and behavior;
The focus on classroom practice in real-time strengthens not just the confidence and capability of early career teachers but of any teacher keen to actively improve their performance;
Sustainability can be of concern if those who set up and run the programmes leaves the school without training others to make use of the investment
Evidence from the research sample indicates that live coaching may have the potential to transform practice where the teacher is comfortable with the process and is keen to learn.
Read the research report in full here.
---
Have you used video technology for your professional learning? Or tried live coaching in your career? We'd love to hear about your experiences in the comments section.