NQTs are the biggest flight risk from the teaching profession. At a time of dwindling budgets, school leaders need to act quickly and take practical steps to retain teachers at the start of their career.
---
Looking at the numbers: what's the situation?
We all know about the current issues with teacher recruitment and retention, with the "teacher recruitment crisis" a buzzword that features in media headlines on a regular basis.
The facts are:
1 in 8 teachers are leaving the profession after 1 year

15% of teachers are leaving within 3 years (the highest rate since records began in 1996)

1 in 3 teachers are leaving within the first 5 years
(Stats from YouGov and the National Union of Teachers, 2015, and Database of Teacher Records and School Workforce Census, 2016)
Of course, it's more cost-effective to increase teacher retention than it is to keep recruiting new teachers and paying for recruitment and training fees year in, year out. Why keep pouring scarce resources into a leaking barrel when it is cheaper and more effective to repair the barrel?
So how exactly can school leaders go about repairing the barrel to increase the retention of NQTs?

---
Listen: what are NQTs telling us they need?
We could speculate all day about what might or might not help school leaders increase the retention of NQTs. But it makes more sense to have a look at what NQTs themselves have to say on the matter.
The number one reason for teachers staying in teaching has been found to be because they feel like they are good at it (Menzies et al., 2015).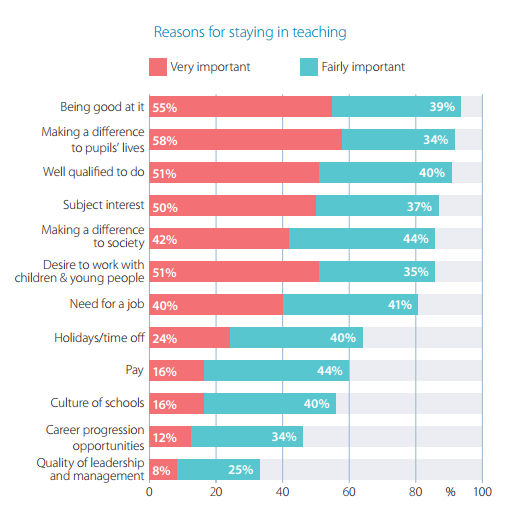 And the need for teachers to feel good at their job doesn't go away. In fact, 20% of teachers surveyed said it actually increased in importance for them (Menzies et al., 2015).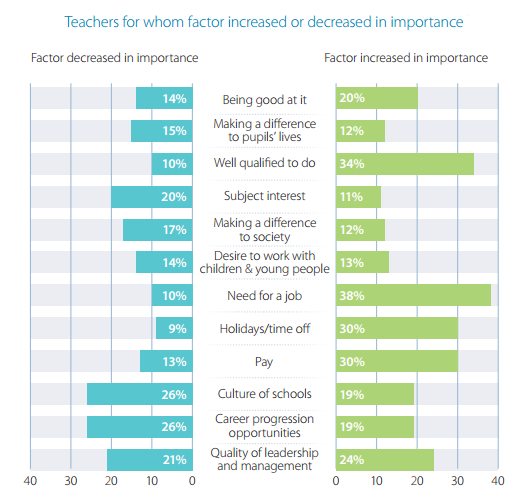 A teacher who feels that they are good at their job has a strong sense of self-efficacy. At the 2016 Shaping the future of CPD conference, Steve Watson, Lecturer in Mathematics Education at the University of Cambridge, explained that a teacher with a strong sense of self-efficacy is more likely to:
Be motivated and successfully meet goals

Be resilient and flexible when faced with change

Have the confidence and ability to choose appropriate approaches in the classroom to meet the needs of learners
Effective training and ongoing professional learning can help develop a strong sense of self-efficacy in teachers, therefore leading to the feeling that they are good at their job and impacting on retention.
This could particularly help with the retention of NQTs as the Why Teach? report found that CPD and career progression are much more important to younger teachers (Menzies et al., 2015).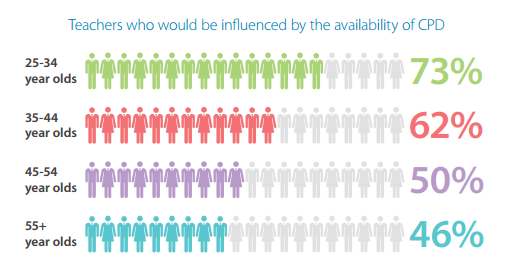 So there it is from the horse's mouth; providing effective CPD could be one way to increase the retention of NQTs. Using video is a way for school leaders to facilitate the types of CPD activities that have proven to be effective at a time when budgets are particularly tight.
---
3 things schools leaders can do to increase the retention of NQTs
1. Prioritise CPD
The importance of prioritising CPD is acknowledged in the government standard for teachers' professional development (published August 2016). Part 5 of the standard details how professional development must be prioritised by school leadership - read summary here.
2. Cut unnecessary activities
In order to prioritise CPD, as well as try and ease teacher workload, school leaders should do all they can to cut unnecessary activities. The government and Ofsted have stipulated that this includes any marking and paperwork that won't directly contribute to outcomes for learners. Read Ofsted's stance here.
3. Develop a positive professional learning culture
It's important for schools to cultivate a positive culture, where teachers feel trusted and supported to take informed risks. This will contribute to the wellbeing of teachers and have an impact on retention.

---
A problem shared is a problem halved: the importance of support
Make sure to check in with your NQTs. Ensuring that they feel supported and able to talk to you can go a long way.
This will also add to the development of a positive culture in your school, meaning that your school is a place where retention levels and teacher wellbeing are high and improvements to teaching and learning can flourish.

---
Are you a NQT? One simple tip for coping with feeling overwhelmed
Ups and downs are likely. Sometimes you might feel on top of things, but a week later you could be struggling. If things are feeling difficult, it's important that you talk to someone.
It's an age-old saying, but a problem shared really can be a problem halved. Don't underestimate the power of just talking to someone; this could be those close to you, perhaps a friend or family member.
You might prefer to talk to someone who also has experience of teaching, but whilst a moan can be therapeutic, be careful that a conversation with a colleague doesn't leave you both feeling more frustrated.
If you're feeling really overwhelmed, why not tell your mentor? Hopefully they will be able to offer you advice and help you develop a manageable plan for coping. Remember that every teacher in your school was once a NQT.
Alternatively, there are a wealth of professional help services available out there. One of these is the Education Support Partnership, which provides a free, confidential helpline for those working in the education sector. Their trained counsellors are there to listen and offer support 24/7. Many of the 30,000 calls they receive a year are from NQTs; you're not alone.
---
What do you think about retaining NQTs? Are you a school leader who had developed a strategy to try and improve the retention of NQTs? We'd love to hear from you in the comments section.
If you're a member of the IRIS Connect community, check out the retention crisis topic in the free Leaders Lounge group. Login to your account >