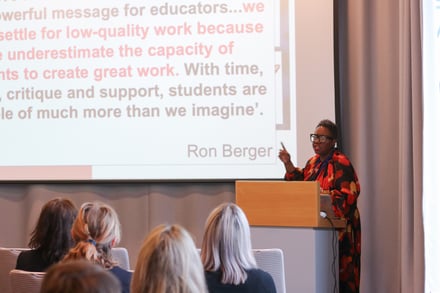 UnityEd 2023 kicked off in Birmingham on 21st April 2023 at The Library of Birmingham. Educators from around the country came together to share their experiences incorporating professional development within schools and MATs. UnityEd 2023 was concluded with a demonstration of IRIS Connect's new professional development solution, UnityPD.

Below you'll find the session recordings of the day. If you do have any comments or questions, don't hesitate to reach out.
- Sonia Thompson delivering the keynote at UnityEd 2023.
Video Recap of UnityEd 2023
Leading and flourishing with excellence and evidence
by Sonia Thompson, Director / Headteacher, St Matthew's Church of England Primary School
Sonia Thompson is the Headteacher at St Matthew's C.E. Primary School and the Director of St Matthew's EEF (Education Endowment Foundation) Research School, in Nechells, Birmingham. St Matthew's is a Talk for Writing Training Centre and previously held DfE Teaching School status. Her school regularly hosts visits for leaders across the country who want to see evidence-informed practice across the curriculum. Last year, Sonia published a book called 'An Ethic of Excellence in Action' based on the seminal work of Ron Berger. In this keynote, Sonia will outline how Berger's concepts of excellence has been implemented and the impact it has had on her own and others schools.
Developing a dilemma based coaching approach
by Rachel Lofthouse, Professor of Teacher Education and Director of CollectivED, Leeds Beckett University
In this session we will discover and experiment with dilemma based coaching. This is an emergent practice developed through an international project and now being trialled through a local network of teachers interested in the dilemmas of inclusion. It offers a new scaffold for an exploratory and supportive coaching conversation.
What makes a WAT leader: Transforming schools through developing high performing leaders in school groups
by Leyla Palmer, Head of Professional Learning & Talent, Windsor Academy Trust
Hear about how developing school leaders is critical to the success of high performing schools and strong school groups. Why and how the Windsor Academy Trust 'Leadership Framework' is powering leadership across a family of schools and practical examples and strategies for developing leadership effectiveness and impact across a group of schools.
Teaching theory to practice
by Andy Newell, Managing Director, IRIS Connect
This session explores expertise through the lens of skills and declarative knowledge. The fluid interplay of these components is essential to the delivery of expert performance and the implications for PD programmes is profound.
Mentoring using video
by Haili Hughes, Principal Lecturer and Teacher Development Mentor Lead, University of Sunderland and Director of Education at IRIS Connect
This session will explore how mentors and coaches can use video technology for observation, granular target setting, coaching conversations, modelling and deliberate practice.
Supporting students with SEN - A practical guide
by Josh Hamblin, Head of Middle School, Exeter House School
Josh is currently Assistant Headteacher at Exeter House Special School in Salisbury, Wiltshire. The school caters for pupils with severe learning difficulties but also works closely with the local authority to support mainstream schools. Josh has responsibility for Teaching and Learning and Professional development and within the workshop he will be providing practical guidance for SEN students to use in the classroom. He will cover a range of topics, including: Working memory, Engagement, Motivation, Routines. Josh will also be providing some useful resources to help teachers and school leaders monitor the quality of their SEN provision.
For IRIS Connect users, Josh has created SEN Networking groups in the platform:
Josh's recent blog:
Supporting students with SEN - A practical guide
The coaching curriculum
by Sam Gibbs and Alex Reynolds, Greater Manchester Education Trust
Instructional coaching is becoming an increasingly popular mechanism for teacher learning, but learning about what? In this session Sam and Alex draw on research evidence and practical examples from schools to explore how we might maximise the impact of coaching through contextualisation, alignment and shared purpose.
Creating a reflective school culture
by Anna Richardson, Assistant Principal, Sir Thomas Wharton Academy
This presentation will explore a range of ways that IRIS Connect can promote a reflective school culture that's galvanised around the delivering exceptional learning experiences for the young people we serve.
Professional Quality Improvement: How Viviane Robinson, Toyota and the Boeing 737 Max inform our school improvement and performance development processes
by Jonny Uttley, CEO + Hayley Nickolay-Walker, Trust Assistant Principal for Teacher Development, The Education Alliance
We will talk about how we have developed the concept of Quality Improvement (moving beyond quality assurance) across the trust and how that now underpins our new processes for performance development.
IRIS Connect for ITE
by Haili Hughes - Principal Lecturer and Teacher Development Mentor Lead, University of Sunderland and Director of Education at IRIS Connect
This workshop will explore how the IRIS Connect platform can help ITE institutes overcome the challenges the Market Review will bring in 2024.
UnityPD demonstration
by Andy Newell, Managing Director, IRIS Connect
UnityPD is a unified professional development solution for teachers at every stage of their career. Leveraging powerful video technology, UnityPD brings together everything research shows is needed to make a difference in classrooms, from evidence-based theory & models, to developing powerful techniques and supporting effective transfer to practice.