Guest blog written by Ash Drury, Head of Science, York High School.
As I sit here looking around my empty classroom during the final week of term, a lot goes through my mind.
Most of those thoughts are looking ahead – we have a great teaching team and wonderful pupils, and I am incredibly excited to be working with them in the next academic year. But some of my thoughts invariably drift backwards to the year that is coming to a close, and I reflect (as all teachers do) on the wonderful year I've had, but also on the lows, the maybes and the what-ifs.
If you are anything like me, you will spend the final few months before starting a new teaching or leadership position frantically googling things like, "How to be a good leader", "What to do before starting as HOD", or "top tips for new heads of department". Maybe that is how you found this blog.
So, below are a number of things I wish I had been told a year ago which would have made my first year as a HOD that little bit smoother.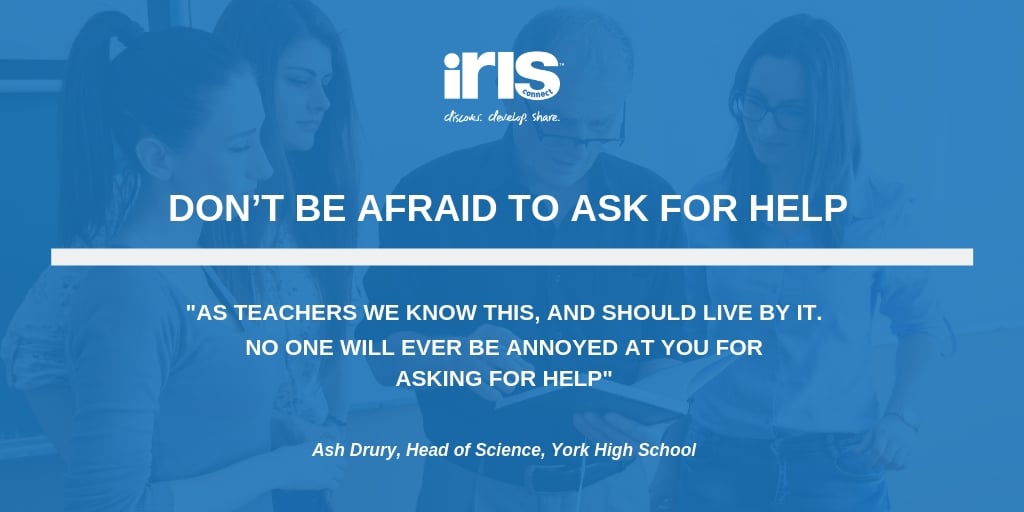 1. Don't be afraid to ask for help
You are going to make mistakes. It is the kind of thing we say to our pupils day-in, day-out but rarely accept about ourselves. In my first week as HOD, I sent a whole school email which (unbeknownst to me) contradicted something our headteacher had said at the end of the last academic year. The head came to see me to explain, and I felt awful. But as he was leaving he said something which I have taken to heart this year – no one will ever be annoyed at you for asking for help. As teachers we know this, and should live by it.
2. Have difficult conversations when you need to, not when you want to
It is most people's least favourite part of leadership. A member of your team doesn't follow policy or misses several deadlines, and you have to go and have 'a chat'. If you do this immediately, when the problem first rears its head, it is surprisingly straightforward. But if you leave it, thinking, "maybe they know they made a mistake - I'll see how it goes", then the conversation you end up having (and you will have it, eventually) will be far, far harder. Be fair and reasonable with these conversations, but also prompt – it can make a huge difference further down the line.
3. Do their work first
This one comes to you very quickly when you start as HOD. Imagine your busiest week – duties, detentions, parents evening, several five-period days and a department meeting. You have to make a choice – plan the important meeting for your department, or mark that same set of books over again?
Always pick the former. If your books don't look perfect it affects you, and only you. You can do them another time. If you don't plan something departmental, it affects everyone. Your job is to make your team's job easier.
4. Don't worry if your staff move on
People's lives do not follow a scheme of work. They are fluid and liable to change. When I started this job, the department was on the back of several years of very poor retention. I set myself a target to retain all of the staff in my team until at least the next academic year. I sought pay rises for some, had deep conversations with others. I honestly thought I'd accounted for everything. What I'd not accounted for (because nobody can) was staff needing to relocate for family, or leaving for health reasons. These things are far more important than my naive retention targets. Keep your team happy and be proud if they move on with their lives – if you have done right by them then they will spread good things about your department and your school.
5. Delegation is a strength, not a weakness
I am very lucky to have a fantastic second in department. He has been supportive from well before I officially started the role, and often spots patterns or thinks of strategies that I had completely overlooked. Delegating work to him is a guarantee that it will be done, and be done well. For whatever reason, I didn't do enough of this early on*. I think I thought I was doing him a favour – less work from me, more time to plan lessons. What I didn't think about was that he was in this for the same reason as me – to improve the lives of our pupils and to make a difference. He couldn't do this to his full potential if I was hogging all the work. Delegate to those who want it and you honestly make everyone's lives better, including your own.
*I know the reason – I'm a bit of a control freak!
6. You will be absolutely fine
This final point is the most important. If ever you doubt yourself, if ever you feel overwhelmed, just remember – your school appointed you for this. They believe in you. You have the skills and the knowledge to overcome the problems you face, and even if you don't there are always people around who can help. Be the leader you have always wanted to be. Help pupils and (perhaps more importantly) teachers fulfil their potential. Support your team through their own lows and difficulties. Get those schemes of work just like you wanted them. And enjoy it. We have the best job in the world, and no matter what it throws at you over the next year - you will be absolutely fine.
Are you moving into a leadership role? Or perhaps you're already in one and just looking for some guidance? Why not download our free professional learning resource kit for Headteachers and aspiring leaders >