After the last two years that teachers have had, tirelessly keeping schools running and educating children through the uncertainty and pressures of a global pandemic, this summer has never been so well deserved. However, as any teacher knows, the summer is usually a time when the more strategic, blue-sky thinking about curriculum goes on, as teachers have more time to reflect on their curriculum offering and how it needs to be developed further over the coming year.
The complexities of curriculum design
Much has been written about curriculum, since Gove's letter to Tim Oates, the chair of the expert group on national curriculum in 2012, in which he referred to Mathew Arnold's well known phrase from 1869, "the best which has been thought and said in the world." This quite rightly opened up a conversation about whose knowledge this constituted and indeed, who decides on what 'best' is. As Christine Counsell (2018) points out, curriculum is all about power and 'decisions about what knowledge to teach are an exercise of power and therefore a weighty responsibility.' To some degree, curriculum content is already partly mapped out, due to the requirements of the National Curriculum across the various key stages and also the individual subject guidance at GCSE and A-Level. However, this still leaves a lot of scope for curriculum and phase leaders to make choices about what they will cover. So where do we even start?
It helps to think both about the disciplinary knowledge and the substantive knowledge in your subject. The substantive knowledge is the content that we teach which is established as fact, for example key dates and particulars of battles in history, or understanding notes and symbols in music. Whereas the disciplinary knowledge is much more complex. It is the study of how that knowledge was established and how it continues to be developed and added to. This is vital, as it encourages students to think of disciplines as something which is not complete and what they are learning in school, as just the beginning of their learning.
This concept of core knowledge is absolutely fundamental to understanding what constitutes a good curriculum; it encourages teachers and others who are responsible for creating and shaping a curriculum to think about what they are teaching and where. In many ways, the sequencing of curriculum is just as important as the content, as students need to have curriculum readiness to be able to understand key concepts later on in their schooling. An example of this may be learning about Greek myths and legends lower down the school, so that in GCSE, students are able to understand Aristotle's concepts of a tragic hero when studying Macbeth. This links to Bruner's (1960) ideas about a spiral curriculum, in which key concepts are presented repeatedly throughout the curriculum, but with deepening layers of complexity, or in different applications. This is why working on the curriculum is a huge endeavour and really a job which is never 'done' or 'complete' as what is taught and when is a much bigger picture than just an individual year group.
Discover our CPD platform for effective teacher reflection
Request a Demo
Perhaps one of the biggest influences on the way teachers think about knowledge in the curriculum has come from the work of Hirsch (2006) and his ideas about traditional, more academic styles of teaching and closing the knowledge gap. In an essay on Hirsch's ideas, Tom Sherrington (2016) considered what the implications are for detailed curriculum planning, in light of his ideas. He argues that there are many important aspects of knowledge that might constitute the 'cultural capital all of my students should share,' but that the decisions on what should be included in any curriculum requires a process of selection from the vast array of what might be learned. Sherrington argues that 'A well-educated, well-rounded student will have gained knowledge from multiple domains and will have had a wide range of authentic experiences – physical, cultural, emotional and intellectual. They will also have developed a range of personal qualities, and these will be alongside and intermeshed with their knowledge.' (2016: 52) When thinking about curriculum design then, we need to consider whether our curriculums are truly inclusive, challenging and rich for all. As Kat Howard says, an exciting curriculum excites and fires up learners and fidelity to the subject means also capitalising on colleagues' interests and passions to enrich knowledge and extend the curriculum (2022). Therefore, involving colleagues in the strategic planning process is also vital to create that sense of awe and wonder in the classroom.
Curriculum intensions and actions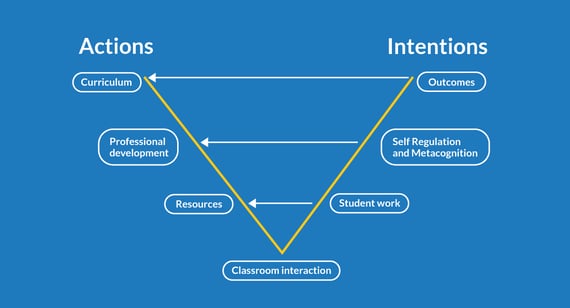 Fundamentally, it is vital that we remember that curriculums don't live in an "ivory tower;" they are enacted in classrooms. Before we can see the impact or implications of our curriculum choices and even think about making changes to refine and improve it, we need to deeply consider the connections between our actions and intentions. Although a curriculum is much bigger than just outcomes, they obviously play a huge part in curriculum content. If we want our students to succeed and do well in high stakes examinations, they need to have been afforded the opportunity to learn the key concepts and knowledge required at school. Many of our students may be afforded rich learning opportunities at home, yet we cannot take this as certainty, so it is important that all students, regardless of their background, are given the opportunity to learn in a knowledge-rich environment in school.
Furthermore, if we want our students to develop metacognition and self-regulation, we need to ensure that not only are those skills explicitly taught, developed and practised in our curriculum plans but that our staff are also empowered, through effective professional development, to be able to facilitate its enactment. In the same way, in order for quality student work to be produced, the resources need to be right. Are there models of what excellence looks like? Are there opportunities for students to be stretched and challenged through engagement with high-quality reading texts? Are teachers equipped to be able to demonstrate thinking out loud when modelling? These questions, and other unknowns you may want to answer, are all serious considerations when we get into the granular aspects of curriculum planning.
Crucially, classroom interaction needs to be at the heart of the curriculum. If it isn't, the curriculum becomes a stale, sterile document. It is only when this classroom interaction exists that it is brought to life. The diagram above demonstrates how our actions and intentions are inextricably linked, which is why thinking hard about curriculum is so crucial.
Reflection is key for curriculum development
Another important aspect of curriculum development is self-reflection and an understanding of where you currently are in relation to where you want to be and this is where video can be really useful.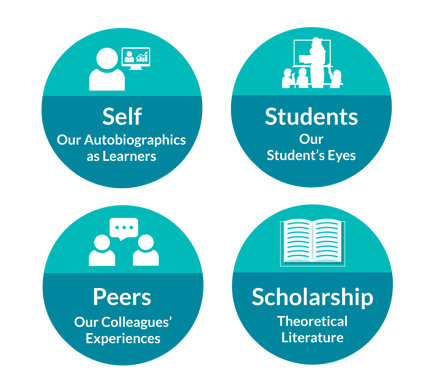 The goal of the critically reflective teacher, for Brookfield, is to garner an increased awareness of his or her teaching from as many different vantage points as possible. To this end, Brookfield proposes four lenses that can be engaged by teachers in a process of critical reflection:
- the autobiographical
- the students' eyes
- our colleagues' experiences
- theoretical literature.
When thinking about curriculum, cogitating upon these processes provides the foundation for a more sound understanding of where your curriculum is now and what improvements need to be made to get it to where you would like it to be. Rooting your thoughts in real, tangible videos of classroom practice also means that any changes that need to be made are easily understood by all stakeholders.
It is vital that curriculum building is a collaborative effort, where all staff feel empowered to contribute. With this in mind, primary co-headteacher, Chris Harrison created a number of curriculum groups on the IRIS Connect platform, with a view to creating a school pedagogy and curriculum model for their teachers. They started by recording lessons and running internal film clubs, to then building banks of lessons that helped to quality assure the teaching that was happening in their classrooms. "Our teachers can now refer to the platform with approved resources and teaching clips whenever they need it" - Chris Harrison. You can read more about Chris' work on this on our blog here.
As Teacher Toolkit's Ross McGill asserts, "Observing yourself teach is transformational!" (2015) and using video as a tool to assist with curriculum planning can also be transformational - it enhances conversations with actions and helps teachers to share and collaborate. So to help you think about your curriculum, here are some tips that can help you to simply the process next academic year:
3 tips that can help simplify the process
Over the course of the year, teachers in your department or school may have regularly used IRIS Connect's software to film their lessons and reflect on their areas for development. It would be a hugely beneficial process to have a shared viewing of some of these videos, where you can collaborate by reflecting and discussing some of the lessons using Brookfield's Four Lenses (1995).


Give all teachers the opportunity to contribute their thoughts and ideas for what needs to be included in the curriculum and why. Not only will this empower your teachers to feel like they are part of a constantly evolving process, but it will also ensure that the topics play to their strengths and areas of expertise. This could also feed into your subject/phase specific professional development, as staff could deliver sessions on their areas of expertise.


Build a quality-assured bank of resources for your teachers to access whenever they need it; this could include exemplar materials and videos enacting strategies for teachers to view. The Practice Exchange - our brand new library of practice, coming in the Autumn, could help with this.


Have you used videos of teacher's practice or any of our other tools at IRIS Connect to help you develop your curriculum? We would love to hear from you and share your great ideas with the rest of our customers.
---
The IRIS Connect video technology enables teachers to easily capture their lessons and review an objective record of their teaching and learning. Using the IRIS Connect mobile app, teachers record their lessons which are automatically uploaded to a web platform. Once there they can privately view the videos and annotate their teaching practice using time-linked notes and analytical tools. If they choose too, they can also share their videos with trusted colleagues, inviting them to give their professional feedback and advice.
These videos become an invaluable resource for the individual teacher and wider school, allowing many teachers to benefit from the solutions of successful teachers.
Want to find out more about how IRIS Connect can help your school to further improve its teaching and learning? Get in touch.
Read more: Why A CPD Curriculum Matters & How To Build One
---
References: