We know there's no quick fix when it comes to remote teaching and one size certainly doesn't fit all, but these tools to teach online could be a great place to start. Keep up to date with all the resources we're sharing over on our Twitter account @IRIS_Connect.
Please share any other resources you've found to be useful in the comments section below so that fellow readers can benefit.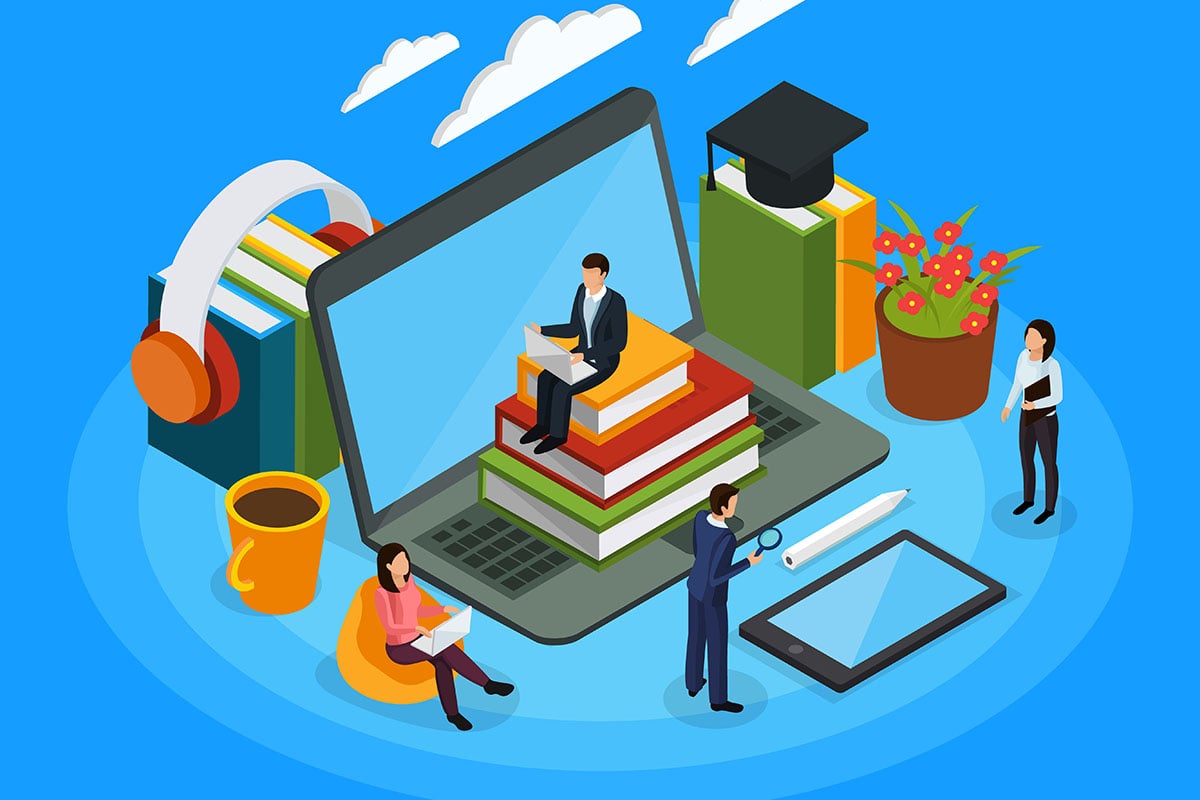 (Image created by macrovector)
Tips to help you teach online
1. Some initial tips to get you started, including using what you already know, from Doug, an online teacher with decades of experience:


What to do if you suddenly find yourself teaching at a distance by @wonkhe

2. Alison shares with us a great graphic highlighting the online teaching principles and a clear list of do's and don'ts:


Online teaching: Do this, not that by @alisonkis

3. Find yourself teaching more synchronously in 2021? Maximise student engagement with Dr Catlin's 7 tips:

7 strategies designed to increase student engagement in synchronous online discussions by @catlin_tucker

4. "It is important that all teachers reflect on curriculum delivery in virtual environments, deploying teaching strategies grounded in learning theory that is germane to virtual teaching environments". This resource offers 12 tips and a video explanation:

12 Tips for Teaching in a Virtual Environment by @teachertoolkit

5. Katherine says "The goal of remote learning is not to isolate, but to connect" which is completely inline with what we believe here at IRIS Connect. Use Katherine's resources to utilise technology and make connections with and for students in a remote learning environment:


Remote learning by @kat_goyette

6. Tips from long-time remote trainers who are offering advice on how to share knowledge effectively. Particularly with a group of students "who may want to ask questions or feedback, but are there primarily to gain information from the presenter, rather than interact with each other".


Tips for running a great webinar by @more_onion

7. Here are 6 tips for collaborating online from Fred, including a bonus tip - "document everything by screen recording all the sessions. So much useful material will emerge and a subsequent edit of the footage is a great outcome".

IRIS Connect pro tip - upload your screencasts to your IRIS Connect account and share with peers for feedback and development.

Running a workshop online by @FredDeakin

8. Keep communication going with your peers throughout school closures. Use Stormboard's shared workspace to generate more ideas, and then prioritise, organise, and refine those ideas to make your meetings, brainstorms, and projects more productive and effective.

9. Get pupils collaborating online with Padlet. Keep tabs on what is going on - what is being created, what is being shared. Know what your pupils are up to.

10. Discover IRIS Connect Rooms: A virtual classroom for your teachers and students.

"Schools and universities deserve a video conferencing solution that's made for education. A solution that provides them with the technical capabilities they need during these challenging times. Not something that's recycled from the corporate world!"

– Andy Newell, Managing Director, IRIS Connect
Improve your online teaching with IRIS Connect
In order to excel in supporting our pupils online, as teachers, we must first feel supported ourselves. CPD has been an unfortunate casualty of the pandemic with an EEF study acknowledging that the Covid-19 pandemic has made traditional CPD exceptionally difficult to deliver. But there is good news - the study also reported that remote professional development is effective.
"Having been at the forefront of remote CPD for over a decade, working with schools and universities in over 30 countries around the world, we're proud that our work has once again been validated." Graham Newell, IRIS Connect.
Record, reflect, collaborate and share practice

IRIS Connect is a video-enabled professional learning platform. It gives teachers the opportunity to easily record every lesson. Whether that's in the classroom with our Discovery Kit or the IRIS Connect app on your own device, or online through Screen Capture. All videos are securely and automatically transferred to the teacher's personal, password protected account on our cloud-based platform. From there, teachers can reflect on teaching and learning, analyse practice, add time-stamped comments, edit their videos and – if they want to – share with colleagues or leaders for feedback. Leverage the collective wisdom of your teachers, share resources and build libraries of good practice at the click of a button.
IRIS Connect has been shown to help teachers develop new skills, refine their instruction, improve collaboration and deliver improved learning outcomes.
Visible progress for every teacher and every learner. Learn more about our blended video CPD solution >