Connect your teachers wherever they are; review and refine teaching however it's delivered; provide effective CPD, whenever your teachers need it.
In the last couple of months, it's become evident that we are experiencing educational disruption likely to last for the foreseeable future. With schools largely closed to most learners, teachers have been forced to think quickly on their feet, and adapt to new ways of communicating with colleagues and students alike. With some teachers remaining in open schools and others exploring their options online, schools are facing unprecedented times.
And even with the potential phased approach to school resumption, they face the prospect of having to close again at short notice. As education professionals, most teachers have been looking for opportunities to continually support pupils in the most effective ways with the tools accessible to them, whether the teaching takes place onsite or online.
Technology of all shapes and sizes is being used by teachers and schools to support this new approach to teaching and learning, and the challenge is not just whether they can physically deliver teaching online, but whether that teaching remains effective in the different settings it is taking place.
With all of the challenges schools are now facing, it's advisable not to rush into implementing completely new solutions, but to consider which systems your school already has and if there are ways to use them to support this new approach. This way you can use what you are already familiar with, save your staff the time of needing to master a new platform and ensure security and safety through a system that's tried and tested.
If your school has been using IRIS Connect to capture and improve classroom practice, take a look below at some ideas of how you could be using our CPD platform to support you through this period of change: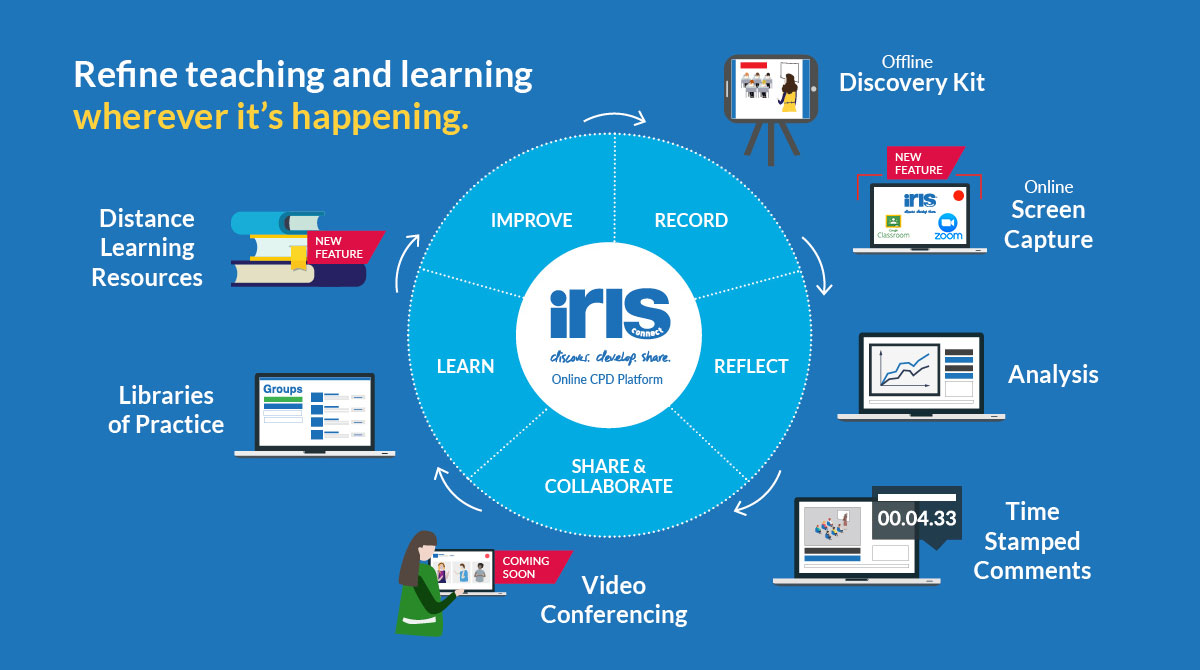 Capture your Online Teaching
Whatever LMS/VLE you are using, it's still possible to capture your asynchronous and synchronous teaching and store it in your IRIS Connect reflections library, just like you would if you were teaching in your classroom. The only difference is: instead of using our Discovery Kit to film your classroom practice, you can now use the embedded screen capture function in the IRIS Connect platform to record your online practice.


Simply log into the platform, click on "+ New reflection" and select "Screen Capture".
Explore our Distance Learning Toolkit
Faced with the challenge of engaging learners effectively, online? This space pulls together a wealth of knowledge and experience to support you in adapting and refining your practice.


We've broken it down into 3 stages - align, deploy and refine - so our resources are designed to meet you, no matter where you are in your distance learning journey.

Check out all the different resources available to you
Contribute to the National Lesson Bank
Our customers have already recorded and uploaded more than 250,000 video clips of classroom practice to their private accounts on the IRIS Connect platform. Would you be willing to anonymously share some of those with the wider community? It can be anything from whole lessons, to short clips; talking heads to screencasts. We want to grow our community and facilitate the sharing and collaboration among all of our users.
Register your interest here, and we'll be in touch.
Check out our Distance Learning Webinars
Film Club can be a great way of getting teachers talking about teaching and learning, and they're accessible online too. Explore high-impact teaching strategies; see video examples of those strategies in practice and discuss those strategies with like-minded educators from around the country.


Topics include: Questioning, Dialogue & Oracy, Instruction & Practice and Assessment & Feedback - Sign up to one today!
Create a Student Group
A collaborative space in the platform where you can publish work to your students. With special restrictive permissioning, give your students access to the group you have created. You can share videos you have recorded or embedded, add time-stamped comments to areas that you'd like them to focus on and further enrich your group with valuable resources like YouTube videos, PDF documents, slideshows and podcasts.
If you need help setting up a Student Group, check out this resource.
Interested in any of the activities mentioned above? Find each one indexed in the Supporting Distance Learning Group.
If you are an IRIS Connect user and would like to get further support, please contact us and one of our team would be only too happy to help. All of these new features are available to our customers at no additional cost. Simply log in with your username and password.
Not a customer? We're offering access to our platform for free, for a limited time only! Activate your licence today.