In these most unusual times, school recruitment has had to be adapted significantly, and not only to ensure that schools can still recruit, but to support candidates in showcasing their abilities. Based on a large volume of questions and interactions that have been shared on Twitter, this is clearly worrying both sides when it comes to thinking about how to make it as effective as possible.
As a school we recently faced the same issues and therefore decided to create a streamlined recruitment strategy using our existing systems. Within this blog I will share the template we have created and how the IRIS Connect system has helped to support candidates display their skills, knowledge and experience throughout the recruitment process.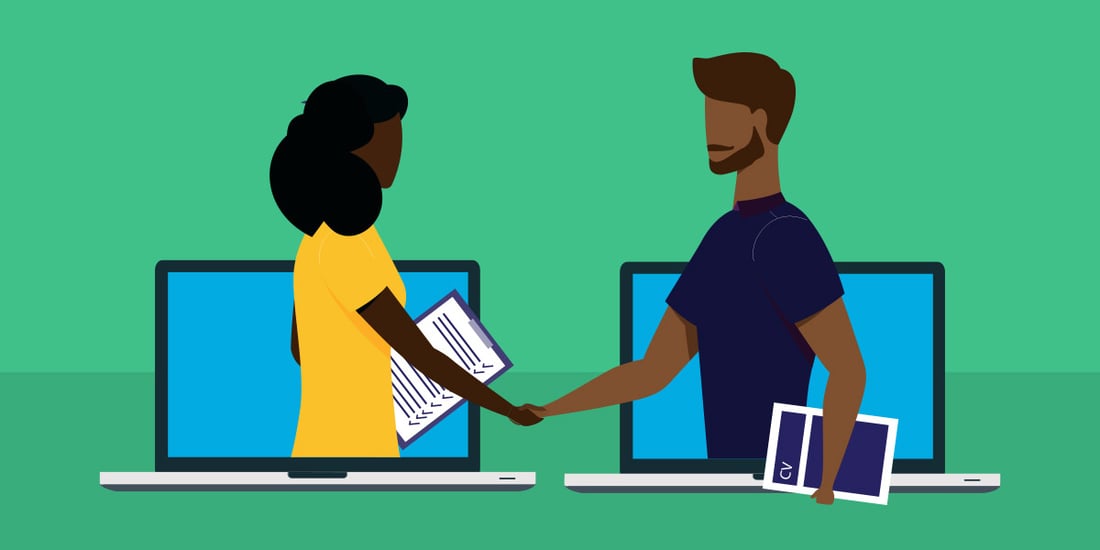 Rethinking the interview process
Carefully collate and score the applications based on your necessary and desirable criteria. This is pretty standard and should help you to pick out candidates who fit the job specifications provided. In our current recruitment phase this brought us from around 50 applicants to 14. At this point, we would normally have invited the applicants to come to school and deliver a short, observed lesson to a class which was matched to the roles advertised. Unfortunately, this was no longer an option, so we had to get creative!
Before further shortlisting and Zoom interviews took place, we developed a selection of tasks for applicants to complete:
Task 1: Plan a 'stunning start' and 'fabulous finish' for one topic area out of a given list (below). A stunning start is how we introduce a topic (for example a spaceship crash landing to launch a space topic in Early Years) and a fabulous finish is how we celebrate and conclude a topic (for example visiting a planetarium to map out the alien's journey home). Please take a look at our school website to find out more.
| KS1 | KS2 |
| --- | --- |
| Intrepid Explorers – Who were the greatest explorers and what did they do? | Ancient Greece –Who were the Ancient Greeks or what makes a myth? |
| Summer Holidays – How have seaside holiday changed over time? | World War I – Why should we remember them? |
Task 2: Plan an English or a Maths lesson based on the chosen topic area. Within this task, we were looking for powerful cross-curricular links, strong subject knowledge with appropriately planned progression of knowledge and skills. We asked candidates to also think about possible links to our school vision and values – you can find out more on our school website. Once the lesson was planned, we asked the applicants to then record a short 5-10 minute video of themselves modelling how they would introduce this topic to their class. Here, we looked at their classroom energy, oracy skills and pedagogical awareness as we were unable to observe them teaching in person.
Task 3: Candidates were asked to record a short video of themselves sharing a book or a chapter of a story (depending on the phase applied for). In this task we were looking for enthusiasm and energy: sharing stories is vital for developing language and oracy skills whilst nurturing a passion for reading.
Task 4: Candidates were then shortlisted after tasks 1, 2 and 3 had been submitted and scored. We asked applicants to share their thoughts and feedback on a video clip of one of our teachers teaching. This gave us an opportunity to see them reflect on the pedagogical skills seen: what 'marvelous mistakes' arose during the session, what was successful and what they would do to follow it up in a subsequent lesson. Following this, a panel interview took place.
How did IRIS Connect support with this process?
We wanted a streamlined, safe system where the applicants could upload their own materials whilst being able to access items shared by the school. By setting up temporary IRIS Connect accounts (which were deleted at the end of the recruitment process) we facilitated a safe online platform where videos could easily be uploaded (we recommended using reflections: new reflection +: screen capture or desktop upload) for Task 2 and Task 3. Planning documents could also be uploaded and attached to the relevant candidates accounts. Once uploaded, the clips could be cropped and edited accordingly, before the interview panel scrutinised and scored them based on the same criteria used for scoring the applications in the consideration phase.
We also connected each of the temporary accounts to an IRIS Connect Group, where each of the shortlisted candidates had access to a bank of quality assured lesson clips from the phases they applied for:
It made it an easier and more effective way for them to access and critique the clips shared during the reflection task (task 4).
This process was incredibly easy to set up and feel that it had a number of benefits:
As a leadership team, we got to see the candidates teaching (or as close to it as possible) with visitors still being unable to visit the school;
It was a good opportunity to share the level of reflective practice we would encourage all of our staff to work towards in our school setting;
Candidates had a number of opportunities to show their very best and let their personalities shine through;
Candidates were able to see our styles of teaching and ways of working despite not being able to visit the school;
We were able to answer all of our questions around the criteria listed in the job specifications;
We facilitated a safe, secure online task platform with every task being delivered in one place.
Going forward there are elements of this process that we may continue to use in future recruitment phases, even when schools have returned in full, such as Task 4. These tasks have given us a really useful insight into our applicants whilst giving them a great opportunity to see how we work as a school. We look forward to exploring this further in the future.
If your school does not already use IRIS Connect then I strongly recommend exploring it – both within your daily teaching practice and when considering the use of video in your recruitment process. See it in action, here.
Guest blog
By Christopher Harrison, assistant headteacher, Grove Road Community Primary School.
@MrHtheteacher