Guest blog by Paul Coffey, St John Bosco Arts College
What is pupil Oracy?
It means that pupils are able to break down complex tasks; create and then implement possible solutions, and then convince others of them. It allows our pupils to articulate complex ideas and gives them confidence in themselves and their abilities. It provides them with the tools they need to compete and thrive in the world.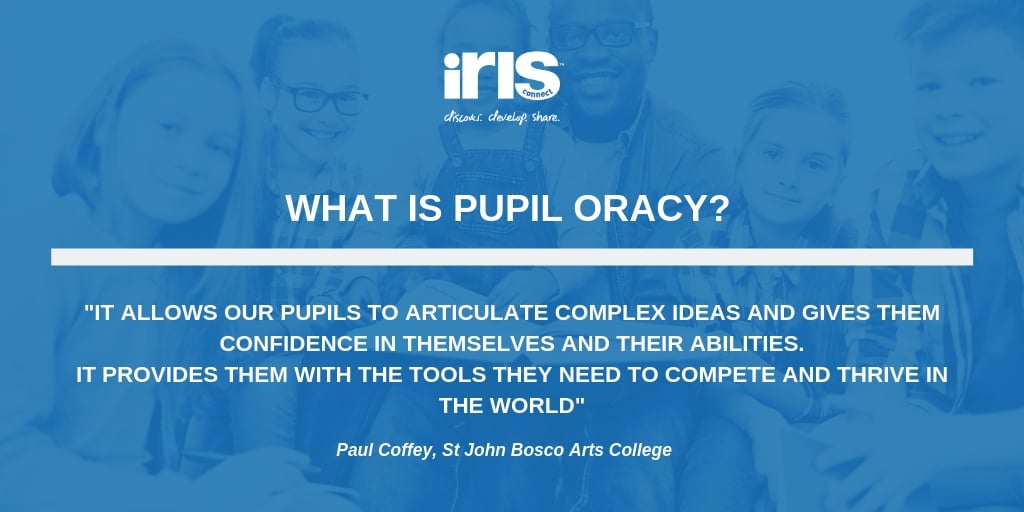 Why does it matter?
"Erm… like… erm… yeah… erm… sort of… you know what I mean…"
How often do we hear that in our classrooms?
I hear it from pupils that are struggling with a new concept, but are unable to articulate themselves. Sometimes I hear it from pupils who may know what they are doing, but lack the communication skills to explain it.
Oracy is not just for English lessons. Good oracy is so important in all of our subjects.
How are St John Bosco helping pupils find their voice?
At St John Bosco we are working with Voice 21 to explore the latest oracy research. This allows us to introduce a variety of techniques that our teachers can use to support and promote good oracy in the classroom and around the school.
However, we need to know if the ideas and techniques are going to be impactful for our pupils in our context. If they are, how can we share them with everyone? If they are not impactful, we need to know this, so that we can refocus our efforts on something that will be. Using video is a great way to support this kind of lesson reflection.
Over the last few years we have been on quite a journey with our own video-based recording technology, IRIS Connect.
We are now at a stage where many of our staff are using the IRIS Connect tools to not only record and reflect on their lessons privately, but also to contribute to an ever increasing online library of clips and Groups for our staff to access. These are categorised into departmental areas and topics so that our staff can use them as part of lesson studies to support specific groups of students, as well as to share best practice with one another.
Using video for oracy development
As we look to develop oracy with our pupils, IRIS Connect is once again proving to be an invaluable tool.
Our school Teaching and Learning team have split into departmental groups to explore whether having increased oracy skills can help pupils to tackle complex, multi-step problems.
To start with, selected classes were recorded while they explained how they would answer a given problem and baselines were taken. Then over the course of several weeks, the classes received specific 'oracy lessons' and were encouraged to use the techniques at every possibility. The class were recorded again upon the conclusion of the trial.
The use of IRIS Connect has made it incredibly simple to track how the pupils are progressing over time. Mr Steele, one of our maths teachers has used the Forms tool to great effect, enabling us to easily record when and how, pupils are using specific language. We are in the process of comparing this data with control classes, and the results are already amazing to see. Pupils who have taken part are speaking in a more structured way, with a greater confidence and understanding of the topics they have been taught.
Thanks to IRIS Connect, we have actual lesson footage of the process which we can now use to provide examples for other staff. The IRIS Connect Forms have also given us clear, measurable quantitative data, which we can use to measure against success criteria.
On top of all this, we're in the process of creating a new IRIS Connect Group to present examples of the research, our planning process, edited clips of footage, and all of the forms that were used. Having everything in one place will make it easier to share with wider staff and form a starting point for the new trials that will take place in the new academic year.
It's going to be an exciting few months!