It's vital that learners have the dialogue and oracy skills required to discuss their learning with their peers and respond to questioning and assessment. This gives teachers an opportunity to discover where best to focus on that learner's development.
So, what exactly do you mean by dialogue?
In this sense, dialogue is more than 'just talk'. It involves teachers and learners commenting and cumulatively building on each other's ideas, posing questions and constructing interpretations together (Alexander, 2008).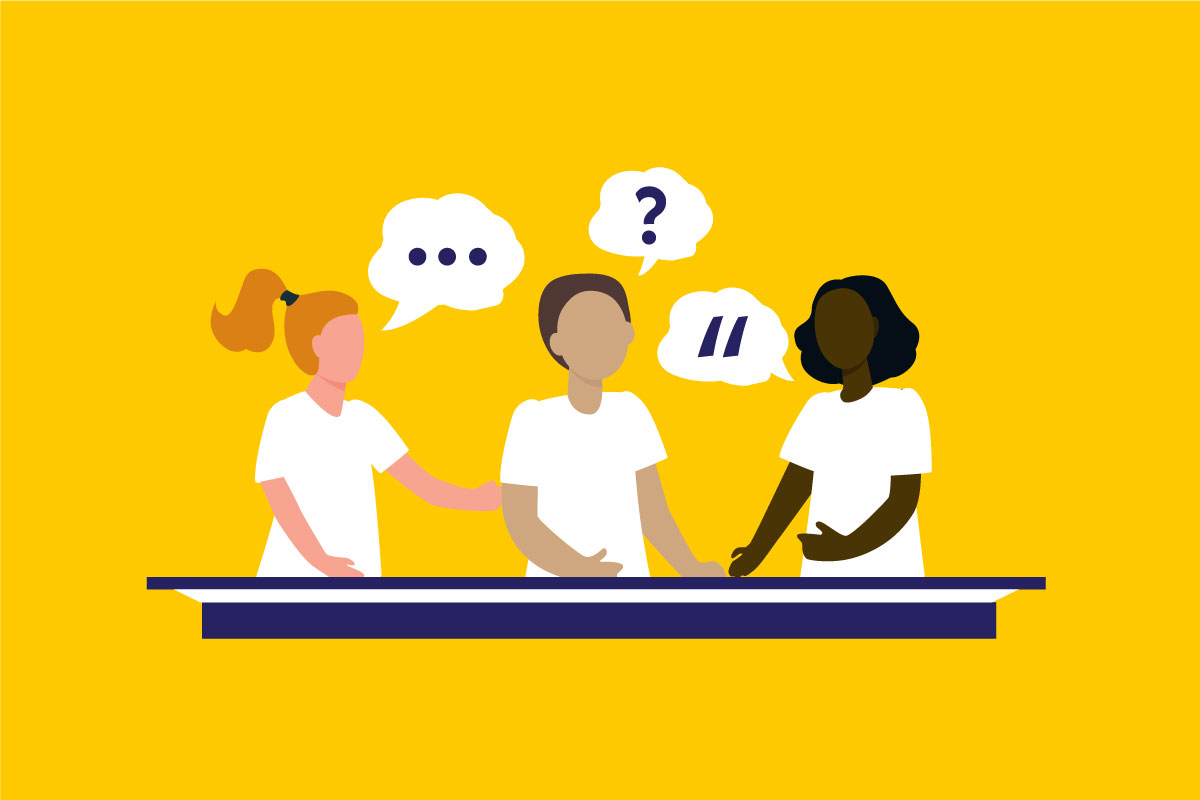 Dialogue means being able to articulate ideas seen from someone else's perspective; it is characterised by chains of (primarily open) questions and answers; it may be sustained over the course of a single lesson or across lessons; and it builds on the idea of 'exploratory talk', where learners construct shared knowledge and are willing to change their minds and critique their own ideas (Mercer, 2000). So you can see that dialogue is talk with a very distinct character and purpose, designed to enable people to 'interthink' (Mercer, 2000; Littleton and Mercer, 2013) and come to an understanding of one another's knowledge and perspectives. Thus, classroom dialogue might be thought of as collective, reciprocal, supportive, cumulative and purposeful.
What does healthy dialogue look like in the classroom?
When language is used for the purpose of learning, you might expect to hear:
questions being used that support thinking
pupils being encouraged to elaborate or add detail
both teachers and pupils challenging the thinking of class members
pupils being asked to give reasons, justify what they assert and speculate
people negotiating their position and changing their mind
How can you encourage dialogue?
Primarily, teachers use classroom talk to give information, check understanding and maintain control. All of these are vital, however, teachers can often dominate classroom interaction.
Key ways you can help improve the quality of interactions with your pupils include:
The way you ask questions
How you respond to pupils
Your 'wait time' after asking a question
How you respond to an incorrect answer (you could take the question around the class to tease out understanding rather than providing a correction)
You should also think beyond the dominant purposes of providing information and checking understanding.
Reflect on whether you use talk for such purposes as:
Linking present activities to past experience
Setting up future activities
Relating existing ideas to new educational frames of meaning
Modelling educated ways of using language
These might be thought of as higher order uses of talk, and the last one in particular has strong associations with the kinds of interactions that might happen during effective dialogue.
So, what is pupil oracy?
It means that pupils are able to break down complex tasks; create and then implement possible solutions, and then convince others of them. It allows our pupils to articulate complex ideas and gives them confidence in themselves and their abilities. It provides them with the tools they need to compete and thrive in the world. (Paul Coffey, St John Bosco Arts College)
Why do we need to support pupil oracy?
Voice 21 stress that children from disadvantaged backgrounds are more likely to suffer from communication difficulties, and are afforded the least opportunity to develop the confidence and abilities in speaking that will enable them to compete with their more socioeconomically advantaged peers. Studies suggest that the average student in a secondary school in a deprived area speaks (as part of the formal part of a class) only four words a lesson - the equivalent of three hours across the whole of their time in school.
"Spoken language enables us to do much more than share information - it enables us to think together. But as teachers do we always use it to the best advantage? And do we give enough attention to enabling children to use language as a tool for learning and problem-solving?" - Neil Mercer.
How you can support pupil oracy
One way is to provide students with a basic language framework or model prompts to help them better articulate their thinking when discussing things as a class or in groups.
Sentences to add on to what someone else has said:
"Building on what _____ said about _____, I think ……"
"I agree with _____ because……"
Sentences to disagree with what someone has said:
"I politely disagree with _____ because …..."
"I see why you might say _____, but I think ……"
Sentences to ask for more information:
"Can you talk more about your thinking please?"
"What made you think of that?"
A simple example of how this might be displayed in the classroom can be seen here:
Ready to take this to the next level?
If you enjoyed the above and would like to learn even more about dialogue & oracy, join Film Club Academy: professional development that goes one step further.
"Thank you so much for a really enjoyable Instruction and Practice Film Club. I have attended courses at IRIS Connect and have found them to be amongst my favourites in terms of quality speakers, delivery of theory and the 'takeaways' that have helped to improve my teaching" - Alex Ram, Trafalgar Junior School