The terms 'teacher wellbeing', 'teacher self care' and 'teacher wellness' have reported higher than usual results in Google since the global pandemic. But it's unsurprising really, given what 2020 had to offer. You only have to take a look at the Twitter threads and hashtags to understand how overwhelmed and exhausted the education sector is.
Before the Covid-19 pandemic struck in early March 2020, teacher happiness and wellbeing were already critically low and driving many teachers out of the profession. Unachievable workloads and lack of autonomy were reported as the main factors.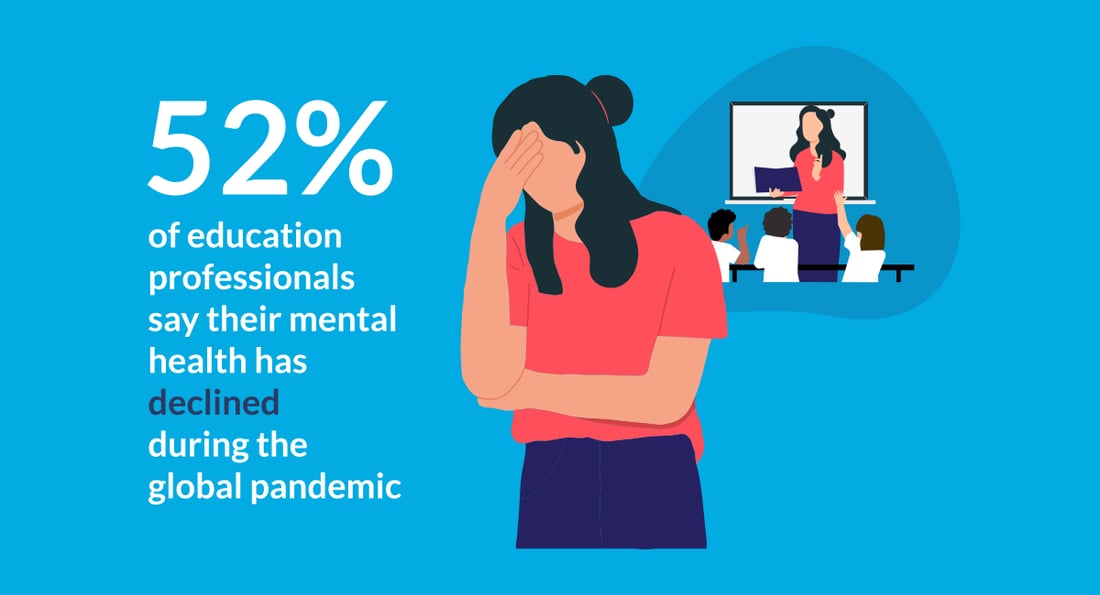 In a recent report from Education Support, 52% of education professionals say their mental health has declined during the global pandemic with many citing increases in workload, concerns for their own, and their pupils' mental health, and poor work-life balance as the causes.
58% of those surveyed stated that they turned to their family and friends for support, with only 10% saying that they went to their line manager, senior leader or senior staff member.
So how can leaders support teacher wellbeing, if they don't necessarily know they are suffering?
6 Ways leaders can support teachers wellbeing post-pandemic
1. Recognise signs of stress
Everyone experiences and deals with stress differently, but there are some standard changes in people's behaviour that you can look for:
Acting withdrawn

Lacking motivation, confidence and general commitment

Showing apathy or numbness

Emotional reactions increasing – being more tearful, aggressive or sensitive

Not being able to focus, which leads to professional performance suffering
No matter the behaviour, the most important thing to be aware of is change.
2. Encourage your staff to open up
Research conducted at the end of Spring Term 2020 showed that only 10% of teachers went to their senior leader for support during the pandemic.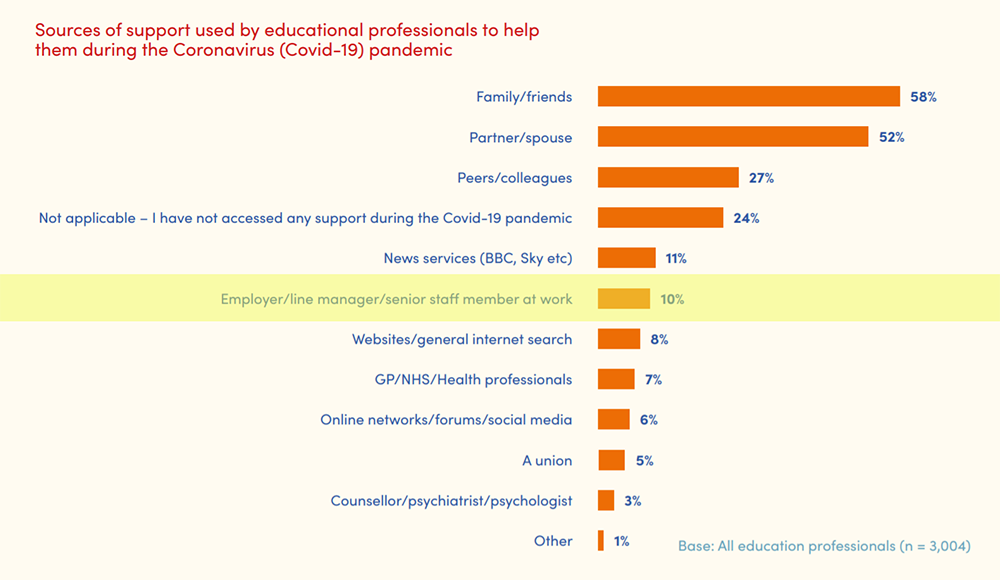 It's safe to say you are likely feeling under pressure yourself at the moment, however, it's important to remember to support your teachers to perform their best and inspire the pupils they teach. If your staff feel supported it will no doubt make your job easier too.
Teachers may not even be aware of the support available until you reach out to them. Encourage them to open up about their work situation (or personal, where appropriate) and make use of what can be a vital support network. Perhaps send an email or make sure it's an item on the next meeting to remind staff that they can, and should, make use of the support available to them.
As well as reaching out to you, here are more tips for you to share with your staff >
3. Help teachers reflect on their own wellbeing
"I think that wellbeing can sometimes just become a phrase that we hear. It's important to break it down into habits and behaviours that we can change." says Jenny Hampton @Brightonteacher, a former English teacher and SLE.
Admitting that she hasn't always taken the best care of herself, Jenny has created a wellbeing self-assessment tool on one side of A4 paper, which can be completed by teachers very quickly. Hear from Jenny to find out more...
4. Create a more open culture
This absolutely reduces anxiety in teachers. Teacher, Dan Sheffrin says,
"[Now], the culture is less top down, people are more open and it's created an atmosphere of trust between teachers."

"Top-down models are quite confrontational. [During lesson observation feedback] people are faced with a situation where someone with authority is telling them the things wrong with their practice. This can naturally trigger feelings of defensiveness amongst staff – they may feel that they are not being represented fairly, and will often focus on this, rather than on accepting the things they need to do to improve."

"We wanted to move to a more reflective approach, built upon mutual collaboration, by encouraging staff to open up, to share and to be a critical friend to their colleagues. This is more likely to lead to a genuine desire to improve – teachers generally want to improve, they want their pupils to learn more effectively. By building upon this, the introduction of new ideas to spur improvements and by creating the right framework for collaboration, change in practice is more meaningful and more sustainable."
Read more about Dan's story and his school's path to creating a culture of openness >
5. Invest in mental health support
Does your school have someone trained as a mental health first aider?
Rachel illustrates just one of the benefits of having a designated MHFA:
"Sarah, one of our Mental Health First Aiders, noticed I wasn't how I usually was. I was really struggling and I didn't know who else to go to. To sit there and let me speak about how I feel and what's happened, it made me feel reassured that I wasn't just an employee, but she took my personal and mental health into consideration."
MHFA's responsibilities include:
Approaching the person, assessing and assisting with any crisis

Listening and communicating non-judgmentally

Giving support and information

Encouraging the person to get appropriate professional help

Encouraging other supports
Find out how to officially train a member of staff as a MHFA >
6. Invest time and effort in staff development
"Staff development should focus on looking at ways of observing as many teachers as possible at absolutely key areas of great teaching. We need resources of teachers showing great explanations of a tricky topic and staff whose modelling enables light bulbs to go off around the classroom." Says Liam Collins, Headteacher at Uplands Community College in a previous blog.
A great way to share best practice is to encourage the use of video technology between teachers. It's becoming an increasingly popular way to identify what's working in the classroom and, most importantly, share it.
"We need to share the best practice of those staff with successful outcomes and a successful work-life balance. We need to look closely at those who may be getting great outcomes but are burning themselves out by pairing staff to look at short-cuts to their workload."
Discover the benefits of lesson recording technology >
Even more reason to focus on CPD…
High-quality CPD supports teachers to overcome the challenges that contribute to a low sense of wellbeing. Research from EPPI-Centre shows that effective CPD in schools can lead to greater teacher confidence, greater enthusiasm, greater self-efficacy and a willingness to learn and innovate.
Ultimately, adapting your CPD provision to give teachers the time, support and resources to overcome the challenges they face can help alleviate stress, enable career development and encourage job satisfaction.
Read more about the link between wellbeing and CPD >
Want to see how IRIS Connect can improve staff wellbeing?
Meet with us