As teachers, protecting your wellbeing at the best of times can be hard. It's especially important that during this challenging time, our mental and physical health stays in the forefront of our minds.
However you are teaching right now, whether that's still face-to-face, delivering some classes online, or sharing resources with your students remotely, here are 5 tips to protect your wellbeing whilst remote teaching.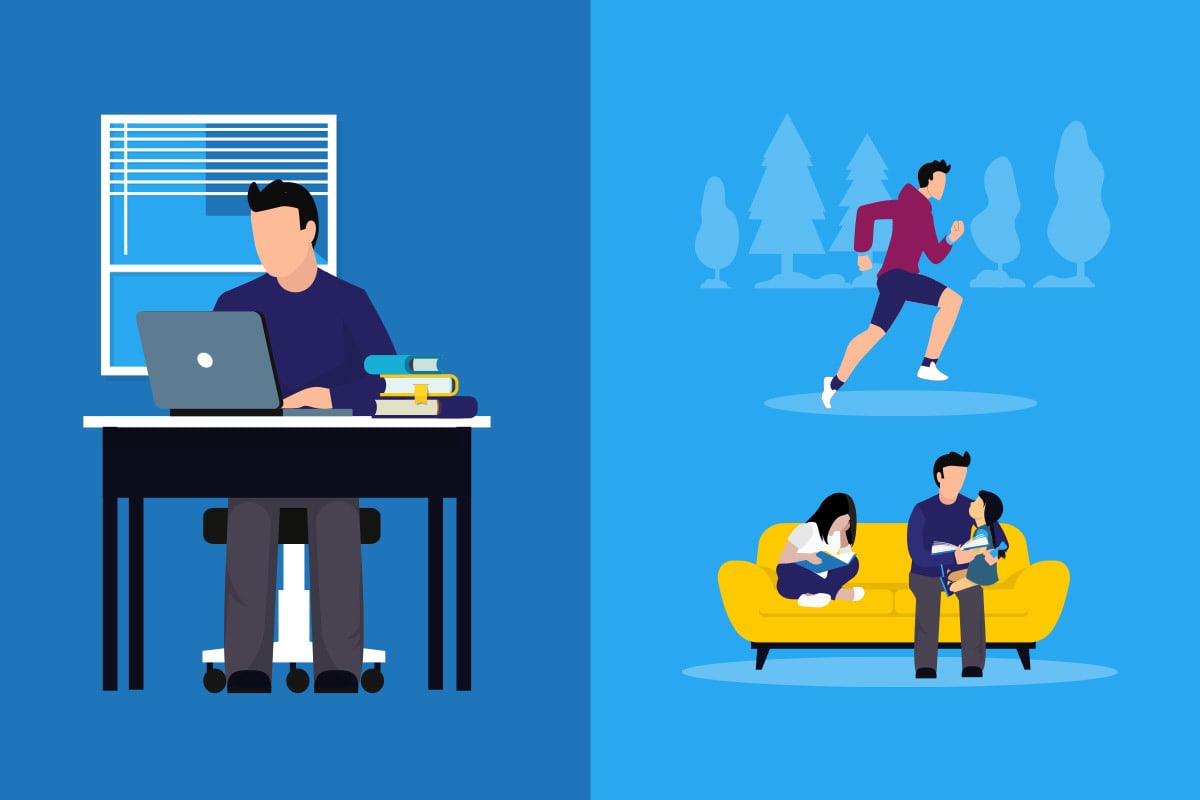 1. Join a remote learning community
No one should be left feeling alone during lockdown. Forming a professional learning community with colleagues you trust is crucial to staying connected. Choose a platform you all have access to and use this time to form habits that will help you develop professionally as an educator well into the future.
If you're a senior leader, be sure to offer all staff the opportunity to buddy up and form a digital professional learning network within your school. In Caring For The Wellbeing Of Teachers And School Staff, YoungMinds tells school leaders:
"Start by creating an environment where staff feel able to seek help from one another. You can do this by encouraging them to form groups or pair up with a buddy. This can help create a mutual support network where staff can influence outcomes positively and work towards solutions as a team.
Another key factor in this step is training. Make sure [leaders] offer staff at every level continuing professional development - it's been proven in many studies to increase job satisfaction and contribute to wellbeing and resilience." @YoungMindsUK
IRIS Connect Customer Tip: Create your own personal, private group space and invite trusted colleagues to join you in your very own professional learning community. To get started, you could share challenges you've faced while adjusting to remote teaching. You never know, they may just have some insightful solutions.
2. Tweak your CPD provision to improve wellbeing
See how Armfield Academy made use of IRIS Connect Film Club during the first round of coronavirus school closures in March 2020. Through Film Club (a free CPD programme) they're bringing teachers together remotely to watch pre-recorded lesson clips that explore different strategies for teaching and learning.
In our blog 'Teacher wellbeing and CPD, is there a link?' we talk about Ainslie Wood Primary School and how they used Film Club to get their teachers talking more and sharing their expertise to help raise teaching standards.
Claire Phillips, Deputy Headteacher, says "It's got our teachers talking about teaching and learning – exchanging ideas and strategies. It's made professional learning fun and easy and, as a result, our culture has become more collaborative and open." Read more about their journey here >
IRIS Connect Customer Tip: Join other schools and take part in your own Film Club on IRIS Connect. There's different topics to choose from but we recommend starting with 'Episode 1: The Empire Talks Back'. Explore dialogic pedagogy and classroom talk that will help you develop self-regulating, independent learners.
3. Keep physically and mentally active
With most of us remaining inside during lockdown, understanding the different ways to keep active is vital for both physical and mental wellbeing.
Sarah Mercer at the Oxford University Press outlines the need to keep active in Teacher Wellbeing: A SMART Approach:
"SMART teachers (Self, Motivation, Activity, Relationships, and use of Time) appreciate the tight connections between physical and mental wellbeing and the benefits of being active in this regard. Our physical wellbeing centres around what is known as the 'health triangle', which involves sleep, nutrition, and exercise.
Attending these aspects of self is a prerequisite for being able to flourish at work. Everyone's needs and capacities in this regard vary, and each person needs to find their own balance. However, the key is to consciously attend to our health triangle ensuring that quality sleep, healthy nutrition, and time for exercise are not pushed off our agendas by other seemingly more pressing demands.
Nothing is more important than your health and recognising this is a critical first step. Human bodies are incredible machines but they also need good maintenance – make sure you look after your body as well as you look after your car, plants, or pets!" @OxUniPress
4. Separate work and play
Tes writer, Oliver Ireland, lays out some great advice in 5 wellbeing rules for teachers working from home:
"Easier said than done, but possibly the most important one to follow for the sake of your mental health. If you have been given working hours, or if you have set yourself a working day, stick to it. Make your students and parents aware when you will be contactable and work only within those times.
Once you respond to the odd parent out of hours, in the evening or on a weekend, you give all your students and parents permission to expect your response at their convenience.
In education, it is difficult enough to do this under normal circumstances. Without the structure of the normal school day to support your barriers between work and play, the lines will blur very quickly so try and maintain this strict division." @tes
5. Make lists of your challenges
With so much uncertainty at the moment, it can feel like our problems are multiplying before us, or that there's always one or two extra things we need to do but can't quite remember.
It can leave us feeling low and unprepared for getting on top of it all. That said, it's easy to forget the influence that stress has on our ability to perceive the world rationally, and there's a decent likelihood that our mind is inflating the gravity of the situation.
In one of our own blogs, 6 tips for better wellbeing, Angus writes:
"An easy way to step back and take an objective look at what needs doing is by making a list, either of the things we need to do, or of the things we are struggling with. Chances are, the list on paper will suddenly seem much smaller than it does in your mind and will allow you to think much more methodically about what takes priority and how to approach each of them.
You can then take the pressure off yourself to mentally juggle it all and have the satisfaction of crossing each item off as you go, which should make you feel more optimistic and motivated to deal with as many as you can."
Read more on wellbeing from IRIS Connect >
IRIS Connect Customer Tip: Check out our practical guides on improving classroom practice. Whether you're interested in topics like coaching and growth mindset, or want to develop a better understanding of strategies like change management and quality assurance - we have a guide for you.
What the future holds
The challenges facing teachers today are completely unprecedented, and teacher wellbeing has never been more important than it is now. At IRIS Connect, we're determined to play our part in supporting the profession through connecting teachers, reducing isolation and providing the resources you need to feel confident in remote teaching.
So, address your challenges, use this moment to prioritise your health, and stay connected with your teaching community.
Furthermore, if you're a leader looking for better ways to support your teachers, check out 'Sustainable solutions for improved teacher wellbeing'