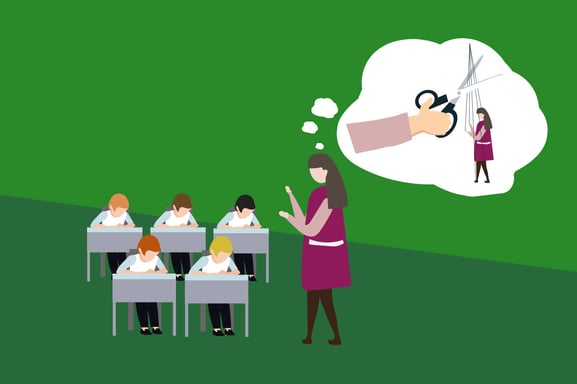 I have been talking about professional autonomy for years as I believe it is an integral part of professionalism: autonomy is not the easy option, in fact it's just the opposite. It demands a rigorous understanding of your own strengths and weaknesses and the willingness to objectively enquire about what actually works.
The research by the NFER in partnership with the Teacher Development Trust, 'Teacher Autonomy: how does it relate to job satisfaction and retention?' (January, 2020), provides a significant and important contribution to the debates about both what constitutes effective CPD and the importance of developing professionalism at the front line.
Increasing professional autonomy to retain teachers
We know from a 2018 study by the University of Essex that teachers have a low sense of professional autonomy. Now, the TDT report indicates a strong correlation between autonomy and a sense of job satisfaction. This means we need to increase professional autonomy in order to retain our teachers.
Government initiatives such as the 'Recruitment and Retention Strategy' have many good ideas but fail to tackle the important issue of teachers feeling a greater sense of empowerment and control (autonomy). The situation is becoming critical - the 2019 NEU conference reported on a survey of 8,600 teachers which, if extrapolated, shows that 200,000 teachers could leave the profession in the next five years.
In 2016, IRIS Connect and the University of Cambridge collaborated to run the conference 'Recruit, Train, Develop, Retain'. One key theme from the conference was that teachers taking control of their own professional learning was central to improving retention. There were many valuable inputs to the conference and, amongst them were the points raised by Steve Watson (University of Cambridge), "Self efficacy can diminish in the latter half of a career. You become secure in what you do but don't necessarily feel you can change things" and Andy Newell (IRIS Connect) made the point that "Teachers who have learnt in a way that inspires innovation, creation and refinement are the ones who are less of a flight risk from the profession. They have a sense of self-efficacy; they can see that the changes they're making are having an impact and are working collegiately to achieve their goals".
How can we encourage teacher autonomy?
If teachers are to have a stronger input into defining their professional learning, do we need to consider the skills required to be more autonomous? Are there skills that should be taught during initial training and then developed progressively throughout a career?
I believe that understanding research is a key skill for an autonomous teacher.
Education policy and practice has always been pursued within a broad social and political context and the autonomous teacher needs to be able to analyse the value of the evidence that supports such policies. There are always questions that an autonomous teacher should ask as research can be contradictory and there are often queries around research design and validity.
An autonomous teacher will refine, adapt and implement in context.
Over recent years there has been a welcome focus on evidence based change and research but I am always minded of the quote attributed to Disraeli - "Lies, damn lies and statistics" and that the more exposed teachers become to research the more they need to deploy their critical faculties.
In his talks the very well regarded former schools commissioner for London, Sir Tim Brighouse, regularly quotes Judith Little, the American researcher, who says that you always know when you are in a good school when you hear teachers talking to teachers about teaching. For me that is a great description of autonomous teachers collaborating and creating collective professional efficacy. If they are having an informed discussion about the relevance of the most recent Government favoured research even better.
How can IRIS Connect help?
When teachers research teaching methods, whether individually or in collaboration with others, it is empowering. It helps to refine practice, provides motivation, can be time shifted, builds collective professional efficacy and defines further professional learning.
But undertaking, understanding and evaluating research requires skills and these, I suggest, should have far more emphasis during initial training. However, they can also be continuously developed throughout a teacher's career.
IRIS Connect is offering an opportunity to work on these skills through the use of video technology for effective reflection and collaboration.
Discover the power of video technology for autonomous professional development:Find out more
What does a school with autonomous teachers look like?
The model above was developed in 2012 and clearly shows how schools and teachers can move from a model of control to one of empowerment.
The profession has the choice to be 'controlled' through external monitoring or to take the responsibility to become 'empowered'.
How a new culture for lesson observations & feedback can give your teachers a greater sense of empowerment
Understanding their own practice is a key skill for an autonomous teacher.
One of the most powerful ways for a teacher to gain insight into their own practice is through the process of lesson observation and feedback.
By giving teachers the opportunity to review lessons themselves, schools are able to put professional development into the teachers' hands. This makes for more powerful, self-directed growth and gives teachers both autonomy and support.
Despite their widespread use in schools, there is a great deal of data that highlights how ineffective traditional lesson observations can be. They're filled with challenges and inadequacies, such as time, perspective and subjectivity, making it hard for teachers to see them as valid and worthwhile.
If you're looking to increase professional autonomy in your school then improving lesson observations and feedback is key.
5 tips to increase professional autonomy in school
1. Give your teachers a new perspective



Seeing themselves how their students or an observer sees them will help teachers to gain much more insight into the impact they have. Use video as a way for teachers to hold a mirror up to their teaching practice and powerfully self-reflect. Read more about improving self-reflection.
2. Stop grading lesson observations.



This will shift the focus of them in your school from performance management to something developmental and positively impact how they're perceived and engaged with by teachers. Find out more about grading lesson observations.
3. Provide more opportunities for peer observation
Observations are excellent learning opportunities for both the teacher and the observer. By providing more opportunities to observe each other you're increasing the chances across the school for development, autonomy and growth.
4. Encourage the use of supportively phrased questions
Open conversation starters and points for discussion make observations a joint, evenly footed process, increasing teachers feeling of autonomy. Instead of 'what should you keep doing and what you should stop doing?', try asking 'how can you evolve your practice over time to better support your learners?'
5. Directly involve practitioners in creating solutions
Including teachers in deciding what targets and objectives to set for their lesson observations will grow their professional independence and allow for 'easy wins' that develop a feeling of immediate progress.
Read more about lesson observation culture and how to incorporate a more developmental approach here.
How to encourage teacher autonomy through coaching & mentoring
"Empower staff by ensuring coaching and mentoring is autonomy-supportive" - Mike Fleetham, video coach.
When done well, coaching and mentoring goes hand-in-hand with creating a sense of autonomy.
It's a key way to utilise staff to empower others so that everyone feels they're contributing to the larger goal.
Taking onboard teachers' perspectives, acknowledging their feelings and providing opportunities for choice will ensure that staff come away from coaching and mentoring experiences with a sense of ownership over their career, and feeling empowered and autonomous.
4 tips to help your teachers achieve greater autonomy
If you're a coach and want to help your teachers achieve greater autonomy, share these 4 tips with them, written by coaching expert, Mike Fleetham;
1. Purpose
Articulate a clear and reasoned purpose for the professional learning you wish to take part in. It can help to use simple phrases such as: 'I need to learn to ____ so that _____'. For example, "I need to learn to ask more effective questions so that my students are challenged to a greater degree."
2. Responsibility
Be clear about who is responsible for the outcomes of the professional development tasks in hand. Ask the question, 'who needs to step forward to make sure this happens?'. Realising accountability often makes people view their responsibilities in a more serious fashion.
3. Impact
Clarify what will be different because of the activities taking place, how will this benefit your students or make your practice more aligned with school priorities and aims.
4. Leadership
Most importantly, take the lead. Step forward by being clear in your own mind about points 1, 2 and 3 above.
Being autonomous around your professional development is not about doing what you like – or doing what you think is right. It's about producing a clear rationale for what you want to learn, why you want to learn it and how this will take place – all in the context of your own career trajectory, your school's growth and, most importantly, the progress of your pupils. You should be asking yourself, "how will my learning impact my pupils' learning"
Discover the power of video technology for autonomous professional development:Find out more
Stay tuned over the coming weeks where we'll be revealing more tips on moving your school to one of empowerment @IRIS_Connect.