The most important influence on student achievement is what teachers know and do in their classrooms.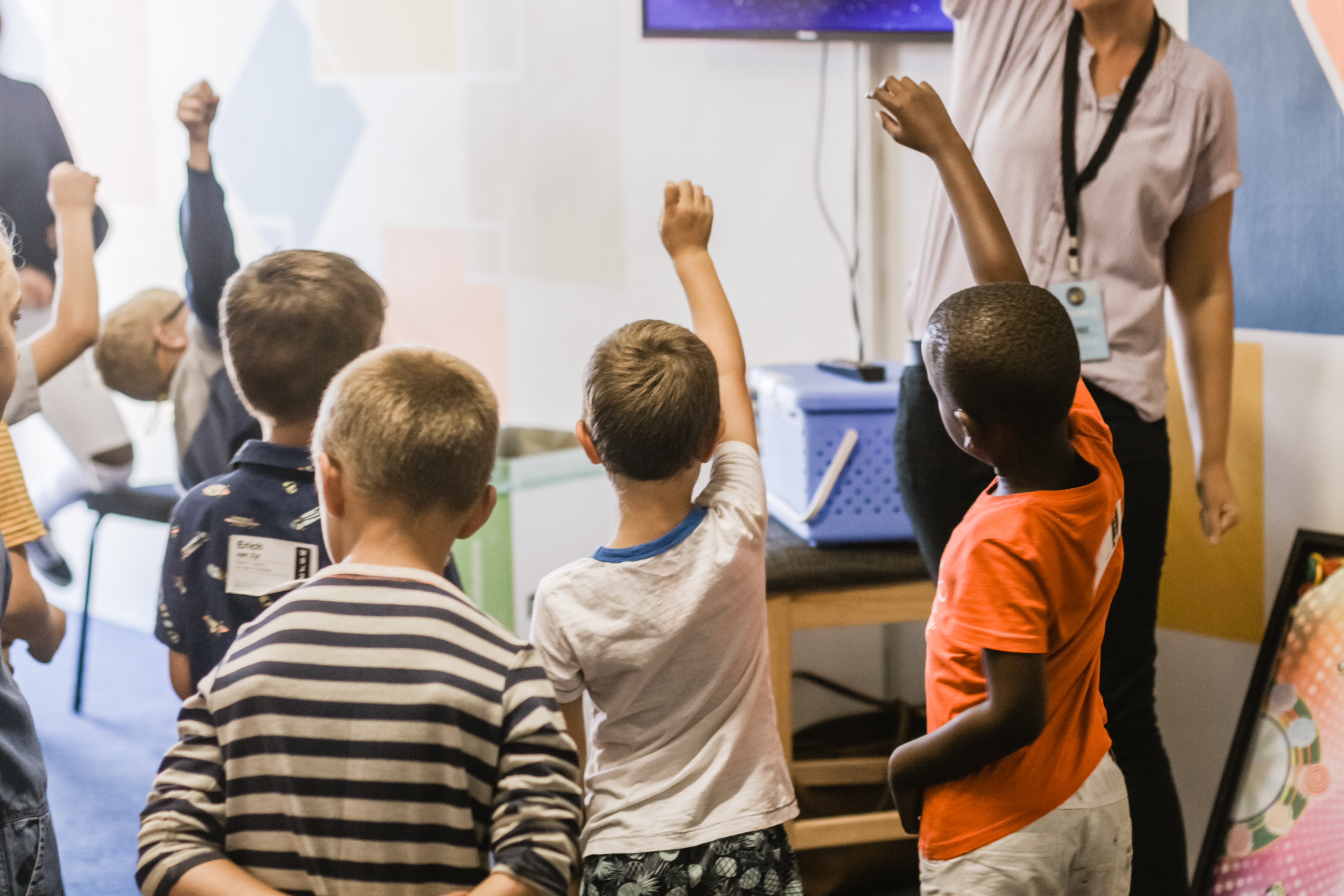 In an analysis of more than 500,000 research studies involving over 200 million students, Hattie (2008) showed that teachers are the largest source of variance in student achievement that can be directly influenced by the education system. (See figure below)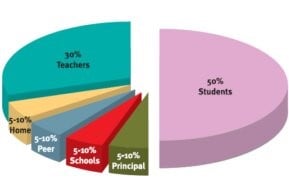 Figure: percentage of achievement by students attributable to various factors
Similarly, Darling-Hammond (2000) conducted a comprehensive analysis of state-level data from all 50 states and found that well-prepared teachers can have a greater impact on student achievement than poverty, language background, and minority status.
Education researchers and practitioners have reached a consensus: Teacher quality matters most .
Teacher quality is an equity issue
Students placed with high-performing teachers progress three times faster than those placed with lower performing teachers. And students placed with low-performing teachers for several years in a row suffer an educational loss that is largely irreversible (Sanders & Rivers, 1996; McKinsey & Company, 2007). Hence why it is so troubling that our most qualified and best-prepared teachers are not equitably distributed throughout our schools.
For example, research shows that teachers at high minority and high poverty schools are more likely to have less content expertise and certifications in core academic areas (Jerald, 2002). We must provide all of our students with high quality teaching, but particularly our most vulnerable students.
Of course, existing expertise and qualifications are only part of a more complex picture. Impactful teachers are not merely those with better initial qualities and qualifications. A high trust, collegiate, learning environment really matters. As shown by Kraft and Papay in 2014: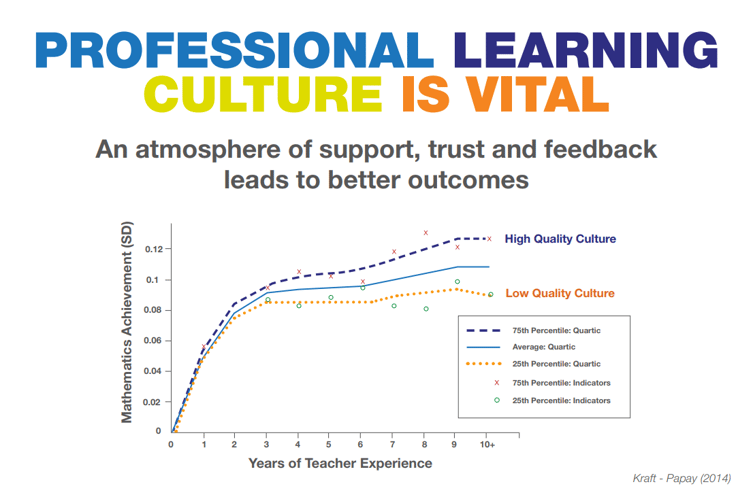 If we want our students to have great teaching, we have to provide our teachers with effective professional learning. Such PD must not only provide teachers with the content and learning interactions necessary for change but also develop and sustain a high quality learning culture.
So, what makes professional learning effective?
Over the past 30 years, researchers have synthesized the studies on the effectiveness of different elements of teacher professional training (e.g., Fullan, 1991,1993; Joyce & Showers, 1980,1995; Joyce & Calhoun, 2010).
This synthesis shows that, for professional learning to be effective, teachers need:
to understand the underlying theory behind instructional strategy
to see expert demonstrations
to practice it themselves
opportunities for individualized and immediate feedback through ongoing coaching and peer support
When all of these experiences are provided, 90% of teachers will successfully transfer the new skills they are learning into their classrooms.
The table below illustrates that each of these elements is necessary; that is, effective professional development requires all of them. However, individually these elements are insufficient to enable most teachers to achieve personal mastery of the content or to actually transfer new skills into their classrooms.
Unfortunately, most of the PD that teachers receive does not contain all of these elements and is therefore insufficient.

Workshops alone are insufficient
For decades, there has been substantial criticism that most professional learning across the United States fails to change teacher practice or impact student achievement (Guskey, 2003). Educators have lamented the fact that most PD is delivered to teachers in the form of in-service workshops that are disconnected from teachers' actual classroom environment and practice (Banilower, Campbell, Malzahn, Smith, Weis, & Weiss, 2013).
These are usually one-time events that flood teachers with new information and then send them back to their classrooms to attempt implementation on their own. A professional subject-matter expert brought in by the district or state typically leads these events. These experts are often good at what they do but unavailable as a resource during the teachers' implementation in their own classrooms.
They cannot provide the follow-up support and coaching that is necessary to ensure that teachers translate new knowledge and skills from the professional learning activity to their own instructional practice. Instead, teachers are left to implement and measure their effectiveness using the skill without help from a mentor or coach.
Instructional coaches, principals, and researchers all agree on the experiences that are necessary for effective professional learning. The problem is that creating authentic, context-specific models of teaching and providing coaching and performance feedback is logistically challenging and cost prohibitive.
With that in mind, what can you do?
At IRIS Connect, we believe that technology can overcome these logistical challenges and provide educators with the experiences that make PD effective. In fact, we've done it with more than 50,000+ educators in 17 countries.
Check out our ready-made PD program, Film Club, to get you started. In Film Club, teachers are:
Given access to the theory behind different teaching topics (growth mindset, developing pupil talk, effective questioning and more)
Able to watch classroom demonstrations
Supported to try new strategies in their own classrooms
Encouraged to record and share practice with a peer or mentor for ongoing feedback
Work incrementally and gradually building trust and a collegiate learning culture
We're so confident in what we do that if you don't see impact, we'll give you your money back. Visit our website to learn more and to begin a 30 day free trial.
Video coaching is a way to revolutionize the efficiency and effectiveness of teacher training. To find out more, download the free practical guide here.
What do you think about this research? Tweet us or leave your thoughts in the comment section below.