In December, 2015, the Every Student Succeeds Act (ESSA) was signed into law, replacing the unpopular No Child Left Behind Act (NCLB).
ESSA takes full effect in the 2017-2018 school year and is one of the most important pieces of education legislation in recent history. However, with more than 1,000 pages outlining new programs, rules, and, funding allocations, it's a lot of information for busy educators to digest. In fact, a recent survey by the NWEA and Gallup found that only 55% of superintendents and 41% of principals are familiar with ESSA.
To make sense of it all, we've identified five of the most significant implications for teacher professional development.
---
5 implications of ESSA for professional development

1. The definition of professional development has changed - Title II of ESSA provides $2.5 billion annually to states and districts for professional learning and removes NCLB's focus on "core academic subjects". That opens the funding up to teachers of all subjects, librarians, paraprofessionals, and principals. Importantly, Title II also re-defines professional learning as ongoing, job-embedded, data-driven, collaborative, and evidence-based.
2. ESSA creates new professional development opportunities for educators - The legislation also creates funding for: The creation of a STEM Master Teacher Corps to train, recruit, and retain teachers in science, technology, engineering, and math; Teacher residency programs improve clinical training opportunities for teachers; New professional learning opportunities for teachers of American history and civics;
3. Title I funds can be strategically allocated without earmarking it for core or supplemental services - This makes it possible for nearly the $15 billion in Title I funds to be spent on comprehensive technology purchases that support district-wide teacher professional development without violating the supplement-not-supplant rules. This was not possible under the old rules.
4. Teacher and School Leader Innovation Program provides grants to districts that want to try out performance pay and other teacher-quality improvement measures - This $250 million program provides funding for projects that develop and implement performance-based teacher and principal compensation systems in high-need schools. Funded projects include: rigorous, ongoing leadership development training for teacher leaders and principals; leadership roles for teachers aimed at school turnaround; the creation of new salary structures based on effectiveness.
5. Title II of ESSA maintains key professional development programs: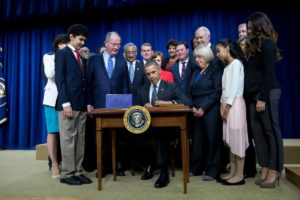 ---
Did you find this summary helpful? What do you think of ESSA? Let us know in the comments below.